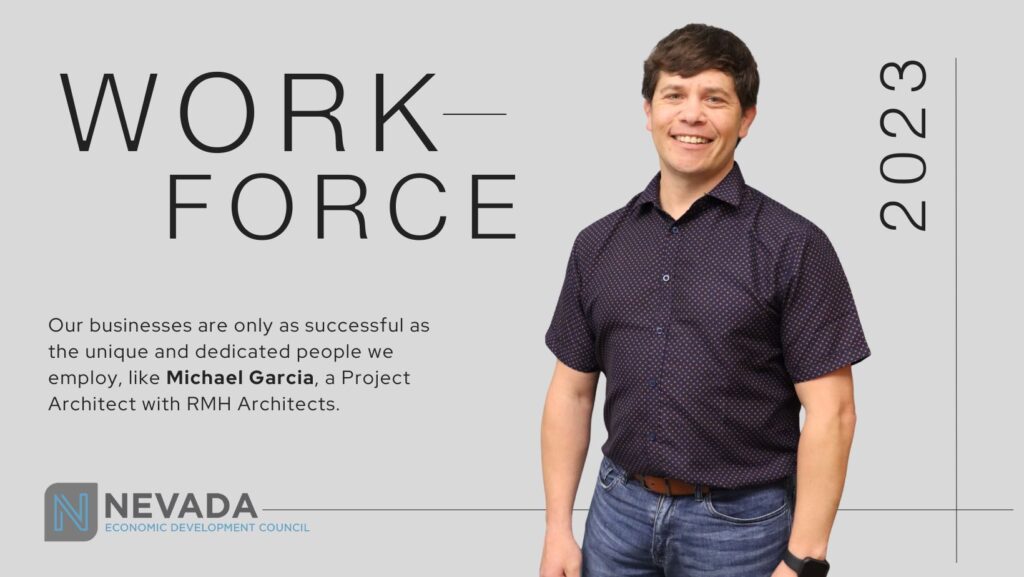 Michael Garcia is living proof that you don't have to go right from point A to point B to get where you are going. When it comes to his career, Michael's path to becoming a project architect for RMH (Roseland Mackey Harris) Architects, Ames, has been anything but straight.
A 1996 graduate of Southeast Polk High School, the Altoona native said he always dreamed of doing something in construction or buildings.
After graduation, he enlisted with the United States Marine Corps for four years. While in the Marines, he worked as a heavy equipment operator, records clerk, licensing NCO, dispatcher, and training NCO — not bad things to know if you're going to someday be involved in construction or building.
During his training, Michael met individuals who differed in backgrounds, cultures, ages, and religions. The one common variable was they had a common goal and were all treated equally. This, Michael said, allowed him to come to the understanding that we are all different somehow in our ways, which interestingly makes us the same.
During his enlistment, Michael was permanently stationed in Okinawa, Japan. for a year. "It was all really eye-opening for a kid from Iowa," Michael said. This was the first time he had been in another country, trying to navigate and communicate with people from another culture in an unfamiliar language. It was a humbling experience and he always remembers this when interacting with people from other countries here in the United States. While stationed in Okinawa, Japan he took advantage of the opportunities that living by the ocean had to offer by learning to surf and became scuba dive certified.
In 2000, after fulfilling his enlistment contract and receiving an honorable discharge, he enrolled at Iowa State University, to pursue a degree in construction engineering. A little way in, feeling he'd rather be in the more creative side of working on buildings, he transferred to architecture at ISU. He quickly learned that the architecture program is "very competitive, and if you're not getting As and Bs and don't have the best portfolio" your chance of being accepted into the architecture program is very slim. He decided to switch to a degree he could complete in four years — Fine Arts.
Michael made the switch to Fine Arts, thinking he'd use his creative skills in drawing, painting, sculpture, and furniture design to pursue teaching. "It was still design, and I was OK with that."
He also, during college, met his future wife, Anne, who was studying dietetics at ISU. They met during their last semester of college when she came into People's Bar & Grill where he was a doorman.
She had been accepted to the pharmacy program at University of Nebraska Medical Center in Omaha, Neb. Michael was going to take some time off before graduate school, so he made the decision to accompany her to Omaha, where he took a job with a general contractor. He first worked as a general laborer, but when the owner found out he had a college degree and other skills, he moved him inside the office. "I became a project engineer in that office … So, I didn't have to have an engineering degree. I did it with my knowledge and experience."
It was a fantastic opportunity, because Michael became familiar with the roles architects and project managers played in the design and construction of buildings. From this understanding, he said, "I realized I do want to be on the creative side (of building)." So, on his own, he began taking classes for blueprint reading, estimating, and drafting.
He'd gotten married while in Omaha, and as Anne was starting her final year of her degree, he began looking at applying to the ISU undergraduate architecture program. When inquiring on requirements of applying and the courses needed to complete an architecture degree, the receptionist in the design college informed him that since he had a bachelor's degree and construction related experience, he should apply for the Master of Architecture program instead. She explained that this would be a higher degree and would require only three years, instead of four, to complete. Anne completed her degree, and Michael was accepted into the master's program. They moved back to Iowa with their 8-month-old daughter and have lived in Ames ever since.
Michael has worked for architectural firms in the Des Moines area, but with the drive and young kids, he felt that working closer to home was best for him and his family. This led him to take a job at Iowa State University as a Capital Project Manager where he managed project budgets, schedules, consultants, and contractors. He quickly realized that he still wanted to be a designer of buildings. This is when he joined RMH architects and has been there for seven years now. Overall, Michael said he's thankful to RMH for letting him be so involved, even as an associate architect, to have creative and development opportunities that he may not have had as early at a bigger firm.
"I feel like in a small company, which we are, you have more quality control, and also a good work-life balance. You can't put a price on that."
Recently, he completed the architectural licensure process and was promoted from "associate architect" to "project architect," an accomplishment he's very proud of achieving. As a licensed architect, Michael can stamp drawings and is now able to become a principle of an architectural firm.
At the moment, Michael is working on the Nevada Field House, which is located in the SCORE park on the east side of town. He comes to Nevada often for job site meetings to monitor progress of the project.
Michael loves working with the City of Nevada and is impressed with what the Field House is going to be for Nevada. He believes the building will add "so much flexibility in the wintertime for people, and in Iowa, you're always looking for indoor recreation space."
Michael also is impressed that the project has not been over-thought, and what he means by that, he explained, is "Tim (Hansen) and Rhonda (Maier) have done a good job of spearheading this and putting into the project things that make sense for this community."
When he's in Nevada for work, Michael said he often has lunch at MiCasita in downtown Nevada, which is a perk of the job!
More interesting notes about Michael Garcia:
–He was diagnosed as an adult with dyslexia and ADHD, which he never realized he had. All along taking tests was difficult for him, and when he found out he had this, he was able to be given necessary time and space for testing, helping make his career goals a reality. "I'm now a major advocate for students who are having a hard time understanding information. I want people to know, 'You're an intelligent person; you just learn differently. Everyone has to figure out what tools are in their toolbox."–His favorite father/daughter activity? Skiing/snowboarding at Seven Oaks by Boone
–His favorite family activities? boating and bike riding
–His favorite activity outside of work? Golfing (When asked if he's good at it, he gives a quick and definite, "No.")
–Favorite sports teams to follow? Cyclones, Cubs, and Bears
–Favorite thing to watch on TV other than sports? Period dramas, like "Vikings" or war movies
–Favorite meal? BBQ (He loved Battles, which used to be in both Ames and Nevada, but no longer exists.)
–Written by Marlys Barker, City of Nevada