The landscape along Nevada's South B Avenue has changed dramatically over the past year.
Along this busy street, Burke Corp.'s 210,000-square-foot expansion – announced in September of 2018 — has been under construction and is now nearly complete.
Burke officials report that most of the production equipment is being installed and commissioned at this time. Plant utility systems – refrigeration, wastewater, boilers, etc. – were started up in June and July, and what remains to be done with the process is happening this month.
"The project has progressed fairly well, with some smaller delays due to weather," said Derek Jardon, Project Engineer. "Overall, we are pleased with the progress of the expansion project."
Burke Corp., a manufacturing facility of Hormel Foods Corporation (NYSE: HRL), a global branded food company, is a leading provider of pizza toppings and other fully cooked meat products in the foodservice and prepared food industries. The present expansion is one of the largest in the company's history.
"We are adding over 200,000 square feet of production space to increase our capacity and allow for continued customer success with our fully cooked items," said Christian Potocnik, Manager of Plant Engineering. "Our customized business model continues to gain momentum in the marketplace, and we will be well-positioned to take advantage of these dynamics for years to come."
As also announced in 2018, the addition brings with it 210 new jobs, which the company is now in the process of filling. Its Human Resources Department reports being busier than ever with recruiting, interviewing, and onboarding. The HR Department is currently training new employees on the many new systems and pieces of equipment being added.
For those who have had their jobs impacted by COVID-19, Terence Beaston encourages you to look at Burke.
Beaston started his career at Burke right out of Nevada High School. He was hired as a "facility roundsman," an entry-level position in the maintenance department.
With the training and skills development offered, Beaston has progressed through the ranks to his current position of Maintenance Planner. "There have been many team members who have impacted my career," Beaston said of his journey up the Burke ladder. "Several of the people to whom I have reported have encouraged me to do better and stay motivated."
Beaston has traveled to several locations within the Hormel enterprise to consult on various projects. He's the perfect example, company officials say, of a "local boy" who grew with Burke and has made significant contributions to the organization.
Another employee who has worked her way through several positions is Sheila Tankersley, Grindroom Lead. Looking forward to the ever-increasing growth potential at Burke, Tankersley will be involved in training many of its new employees.
"As long as you show up and do your best, you will have an opportunity to grow," Tankersley said, adding that she appreciates how Burke Corp. continually challenges its employees to expand their skillset. "It's a good team. Everyone works together."
With the new expansion, Burke will have an even bigger workforce team, and the possibilities for employees and products are exciting.
"This expansion gives our nationwide sales force the opportunity to further expand our footprint in multiple sales channels, including food service, convenience, and industrial/manufacturing," said Michael Dougherty, Vice President of Sales & Marketing. "Our quality is unmatched in the industry, (which is) evident with Burke's 45 years of unprecedented sales growth and continued demand for our products."
So far, the community has provided positive feedback on Burke's expansion. Along with many questions about what will happen inside, Jardon said he'd received positive comments on the new buildings' design and architecture.
"We are just starting to landscape around the property, which will greatly increase the aesthetic appeal," Jardon added.
Burke's growth in Nevada is a "win" for both company and community.
"We couldn't be happier to be able to keep this project in Nevada and continue the legacy that the Burke family started nearly 50 years ago," said Potocnik. "It is wonderful to be able to bring additional jobs to a community that is always looking for ways to grow and thrive."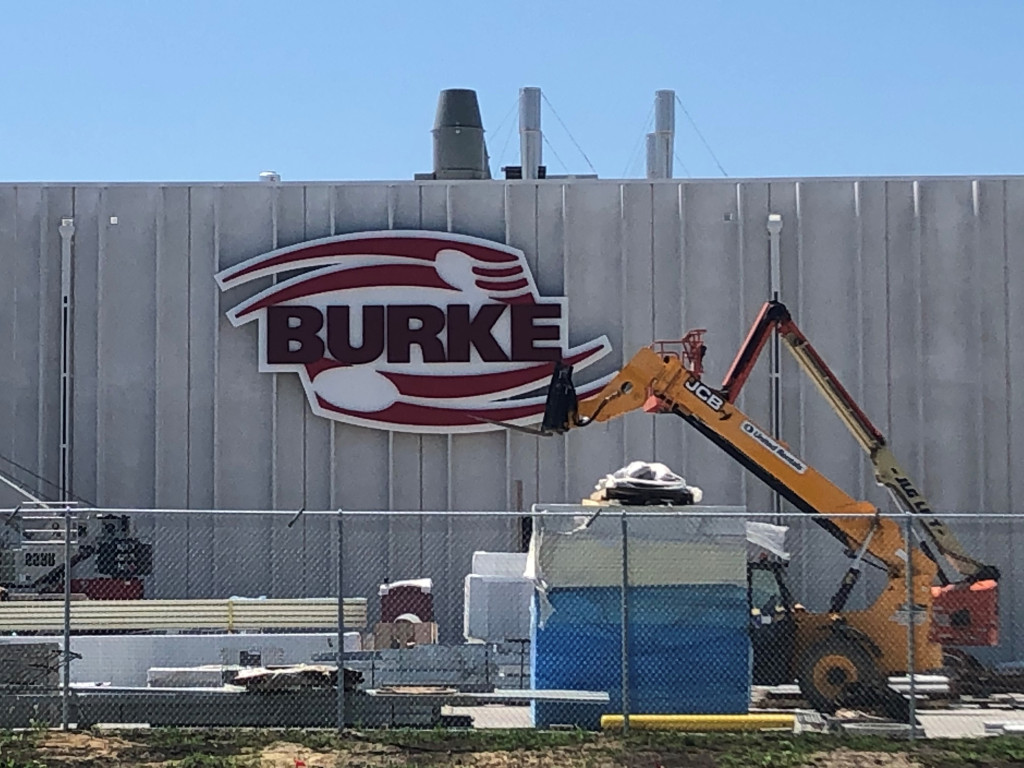 While the company is not in a position to allow visitors at this time, Burke officials say they hope to host an open house and show the public their new addition at some point in the future.
—Written by Marlys Barker, City of Nevada