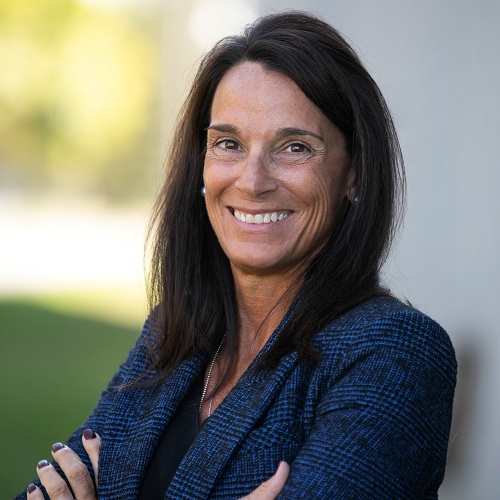 What is your hometown? Shenandoah, Iowa 
Occupation and company you work for? COO/CFO 21st Century Rehab, PC
Do you have a fun fact about your business or something you're doing at your business that you're excited about? We are just coming to the end of celebrating 25 years in business. Steve and I started here in Nevada with our first location in June of 1995. Our middle daughter Elli works for the company. Our youngest daughter Kati also works for us but is also at Des Moines University studying physical therapy. She will join the practice as a physical therapist after graduation.
What is your role with the NEDC, and how long have you been involved? VP, past Investment Chair. I have been on the Board of Directors for more than five years.
What is the most interesting or incredible thing you have learned about local economic development by being involved in the NEDC? Economic Development has evolved and is much more complex than it was just a few years ago. I am so proud that we made the decision to partner with AEDC (Ames Economic Development Commission) as they bring a level of expertise from their team that we would not be able to achieve on our own as an organization. I just want to give a huge shout-out to John Hall as he is doing a fantastic job for NEDC!
Why do you continue to be involved in local economic development? Why is this an important issue for you? I am very passionate about the community and honored to serve on the board. I want to see our community grow and thrive. I truly believe that there are three kinds of people: Those who make things happen, those who watch things happen, and those who wonder what happened. I want to be someone who makes things happen. 
What other involvements do you have in the local community/county? Currently, I am a board member of The Nevada Foundation, Leadership Nevada Steering Committee, Rotary, Boys and Girls Club, Story County Compensation Board, State Bank and Trust Board, and Ames National Board.
What are your favorite pastimes/hobbies? I love to read, travel, hike, and enjoy a great cup of coffee or wine, depending on the hour.
Who are the members of your family? My husband Steve and I will be celebrating our 30th Anniversary this August. We have three girls, Emma (and Keegan), Elli (and Daniel), and Kati.
What is something fun about you that only your high school or college friends would probably know? I have always had a job since I was 13 years old. 
If you had only one hour a week to watch TV, what would you watch? MASH – rewatched all 11 seasons during COVID
What has 2020 taught you? We need more kindness in this world. We may not always agree with each other, but we all can be kind to each other.