What is your name and position in the company/business? Kayse Jenkins, Marketing Coordinator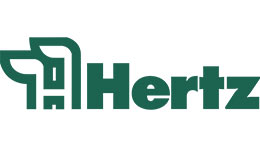 What year was your company started/founded? 1946
Where was the business located when it was started/founded? When Carl established Hertz, the first office was over Dillon's department store (now Ben Franklin) in Nevada. In 1948, the office was moved to the second floor of the State Bank and Trust Company building on the east side of Sixth Street in Nevada. There were a few more moves before we eventually settled at 415 S 11th St. in 1977, where we remain today.
Is there any interesting story or detail about your company's early days that is fun to share? Carl and Marjory Hertz had purchased and moved to the farm southeast of Nevada. They intended to farm and have Carl do most of his work in Story and surrounding counties. A private college hired Carl to do an appraisal and make recommendations on how to make their 20-plus farms located across Iowa more profitable. After presenting his report to the board of trustees, they asked him to implement his recommendations. His plan to stay close to home changed, and Marjory was charged with keeping and improving the farm. She was the only woman picking up supplies in town. Meanwhile Carl was managing, selling, and buying farmland in a car that had no air conditioning or seat belts!
How many employees did the business have when it first opened? Carl Hertz was the first official employee. Hertz was a 1-man shop when it was first established.
How many employees do you have now? Today we have over 130 employees across 14 offices, all over the Midwest. Over 50 employees are here in Nevada.
What types of jobs are there within your business? In addition to our farm management, real estate, and appraisal departments in Nevada, we have our corporate shared services which include our leadership team, CFO and other accounting staff, human resources personnel, IT staff, and our farm accounting specialists who provide support to all farm managers across all of our offices.
Where can people review current job openings with your business? The Contact page of our website has all of our job openings: https://www.hertz.ag/contact. We are always looking for great peoples to join our team!
In the simplest of terms, what does your company do? We specialize in providing professionals farm management, farmland real estate services, and trusted farmland appraisals for landowners across the Midwest.
What are some ways your business and its employees have engaged with members of the community? We encourage our farmland professionals and team members to get involved in the community. This has included service clubs, city council, economic development council, hospital and university foundations, coaching youth sports, and supporting the community.
What do you believe your business is best known for? Hertz Farm Management is known for quality people and employees. It is a business to business, where most of their work involves work outside the community, yet we are proud to be located here.
Is your business looking toward any big changes in the near future? Hertz continues to grow, innovate, and adapt to meet the needs of farmland owners. Changes include new technologies, digitization, succession planning, new employees, and new office locations. We currently have 40-plus commercial drone pilots to utilize drone technologies.
Did the pandemic have any major effect on your business, either positive or negative? Yes! The pandemic enabled us to implement Online Auctions which have taken off tremendously over the last couple of years. It's been an excellent addition to our services and clients.
Why is Nevada/Story County a great place for your business to be? Hertz is located in Nevada for a reason. This is a great farming area, centrally located close to Iowa State and central Iowa is a great location for our team members to live.
What's the best way for people to learn more about your business – do you post on social media or keep up a website? We post regularly on social media and our website is always a great resource for information. In addition, we do publish several newsletters that people are welcome to subscribe to if they would like more information on both our business and the current ag industry.
Website: https://www.hertz.ag/
Subscribe to Receive Newsletters: https://visitor.r20.constantcontact.com/manage/optin?v=001nMM2VZu5hBSHVpzm53PBxLR2Cid5djS3IY2bE2XXG4X7tKy5SbnWPZGZWYsjjmBJ9rhEB72WrjbIk9Au9YqC_D_LAuWx5w4PE-MBc-qYCKfH4YF8_yvCKnpzLeZJfd7-82jof6HeKUUtV_W_B3jPog%3D%3D
LinkedIn URL: https://www.linkedin.com/company/273354/admin/
Twitter URL: https://twitter.com/HertzAgLand
Facebook URL: https://www.facebook.com/HertzAgLand
Instagram URL: https://www.instagram.com/hertzagland/