What is your name and position in the company/business? Mike Espeset, President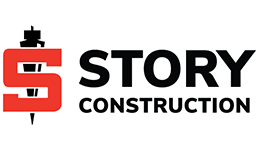 What year was your company started/founded? We were founded in 1934 as James Thompson & Sons.
Where was the business located when it started? We've been headquartered in Ames for all 87 years.
Do you know how many employees your business started out with when it first opened? Just a handful, including James Thompson and his two sons. The company grew as it signed more projects throughout Iowa.
How many employees do you have now? Approximately 140 employees currently 
What types of jobs are there within your business? Running a construction company is a team sport. Other than craft staff, foremen, superintendents, and heavy equipment operators, we have engineers, project managers, project assistants, an employee development team, two safety coordinators, accountants, estimators, designers, marketing, a warehouse team, and other administrators. 
Where can people review current job openings with your business? It's as easy as visiting www.storycon.com/careers. 
In the simplest of terms, what does your company do? We're a general contractor, construction manager, and design-builder. We build in many commercial markets throughout Iowa – just about everything except roads, bridges, and houses.  
What are some ways your business and its employees have engaged with members of the community? Our employees are members of the community. Our employees serve on school boards; they're leaders in their churches; they referee youth soccer and coach baseball teams; and they give their time to many organizations throughout Story County and other communities we work in. 
What do you believe your business is best known for? We believe we're best known for leading projects and for our lean construction system, Construction Production 2.0. 
Did the pandemic have any major effect on your business, either positive or negative? We experienced many of the same challenges the pandemic pressed on everyone else, but the biggest effect it had on our business was how it exercised our resiliency and agility. Many of the processes we had in place before 2020 were tested and strengthened, and while it wasn't a cakewalk, we're better for it. 
Why is Nevada/Story County a great place for your business to be? The connection we have with other businesses in Story County, and the quality of life our employees lead living in Story County, makes it a great place for our business to be headquartered. 
What's the best way for people to learn more about your business – do you post on social media or have a website? Follow us on Facebook, Instagram, or Twitter, visit www.storycon.com, and sign up to receive our quarterly StoryLine newsletter to keep up with us.