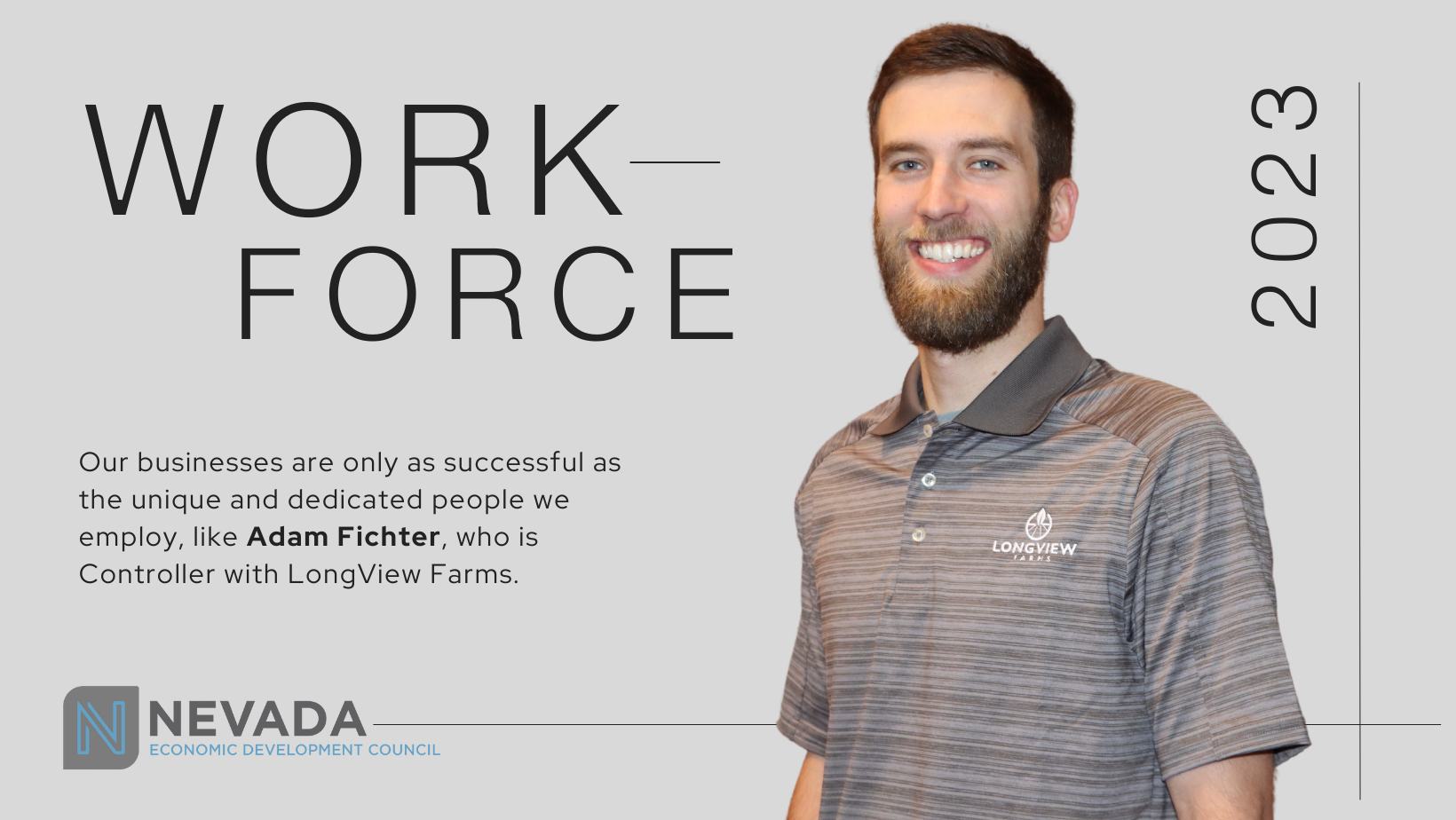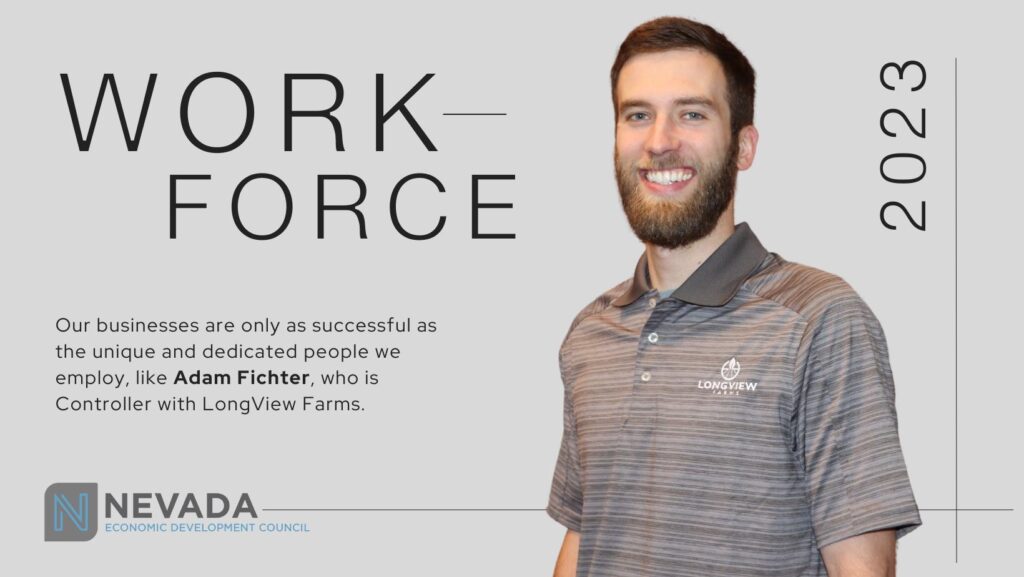 A young man who grew up on a farm in the southwest corner of Iowa is now overseeing financial decisions to grow a Central Iowa-based farm business.
Adam Fichter, a 2011 graduate of Shenandoah High School and a 2015 graduate of Iowa State University, is Controller for LongView Farms, located north of Nevada.
LongView Farms is a business that has grown out of the long-time Henry family farming operation. Adam, who started his position with LongView, was a natural addition to the business because he's pretty much a member of the extended Henry family. "My dad (Corby) was in FarmHouse Fraternity at Iowa State with Steve (Henry)," Adam said. "Growing up, whenever our family traveled to Ames, we'd stay with the Henrys, so I really got to know their boys. I've always had a lot of respect for their family and their farming operation." Adam also belonged to FarmHouse Fraternity during the same years as Scott, Kyle, and Eric Henry.
FarmHouse Fraternity was also, Adam said, the way he became acquainted with another Nevada-based ag business, Hertz Farm Management. That was the first place he worked after graduating from Iowa State, where he studied Ag Business, Economics, and International Ag. "I had gotten to know Randy Hertz (of Hertz Farm Management) through the fraternity," Adam said. And when he graduated from college, he and his wife Marissa – who he'd met while at ISU and married in July right after graduating – headed to northern Iowa so he could work for Hertz out of their Mason City location. He became a farm manager for the company. The couple lived in Clear Lake, and Adam worked at Hertz for two years before another opportunity presented itself in the Clear Lake/Mason City area. "I had the opportunity to work for Farm Credit Services of America as a Financial Officer, and I was with them for five years."
All along, in both positions, he was growing and learning, gaining skills that would match perfectly with what LongView Farms needed in their leadership team. "They (LongView) had a need that my experience and skillset could meet, so I was really excited for the opportunity to join their team," Adam said.
Joining their team also meant moving his family, which includes two daughters, Corrine and Heaven, to Story County. The family currently lives in Ames, where his wife homeschools their daughters, and even though they have many fond acquaintances from Cornerstone Church, where they met as participants in the Salt Company, Adam and Marissa are now active members in a smaller congregation in Ames at LifePointe Church.
Day to day, Adam said his work at LongView Farms involves doing a lot of analysis. Using his hands to show what he's saying, Adam said, "in my previous jobs, I worked with many operations (wide) but never went as deep in any of them. Now, my work is narrower in focus (not as wide), but I go deeper into the operation with my work. I love being in a position where I can help provide good information so that we can use it to continue growing the business." He often works closely with Laurie Henry inside the central offices of LongView Farms, and he finds the process and working with her to be very enjoyable.
For those who aren't aware of all that LongView Farms does, Adam explains that they have a combination of commercial row crops along with seed corn production for seed companies, as well as a custom farming business. They also operate LongView Pork and LongView Cattle, as separate businesses, under the LongView umbrella. "Depending on the season, we have up to 20 employees, with our largest need for employees being in the spring and fall. We're super fortunate to have such a strong operations team and good help from Iowa State University in the fall– kids who grew up on the farm."
When it comes to what Adam is most proud of when he considers LongView Farms, he has no hesitation with an answer. "I'm proud of the culture that exists there. The Henrys have been intentional about creating a culture that people want to work in, including family members. It's not your typical family farm. It's a very professional environment, but you can develop good relationships that have a family feel."
He said he and his wife loved the Clear Lake area, but also like being back in Ames. "We've enjoyed getting out to different community functions here."
One place he's been to more than once in Nevada is MiCasita Mexican restaurant on Sixth Street. "Eric and I, in the winter, created a habit of going there on Fridays if it worked in our schedule. I really like the chimichangas."
A few more interesting things about Adam Fichter:
• He's an identical twin, and he and his brother have followed very similar paths. Both went to Iowa State and were in FarmHouse Fraternity. Both played club baseball at ISU. Both worked for Hertz and Farm Credit. His brother is still at Farm Credit. Both wear a beard. And only his brother, Adam said, knows exactly who've they've fooled by doing the "switching places thing" that twins do.
• In addition to his twin brother, Adam has a younger sister, and she's the ag instructor for Des Moines Public Schools.
• Adam and Marissa have hosted several exchange students, including two from Jordan, one from Egypt, and one from Pakistan. These are students who spend a full school year in Iowa through the IRIS program, which his wife is a coordinator for. Marissa coordinated for the two students who spent the previous school year in Nevada and Colo schools.
• When it comes to being a fan, Adam is all about the Cyclones. He also follows Royals baseball.
• If he's watching something other than sports on TV, it's probably something his daughters picked for their weekly movie night.
• His favorite meal is "a good steak."
• Something he's really enjoyed being part of in Nevada is the Rotary Club.
–Written by Marlys Barker, City of Nevada