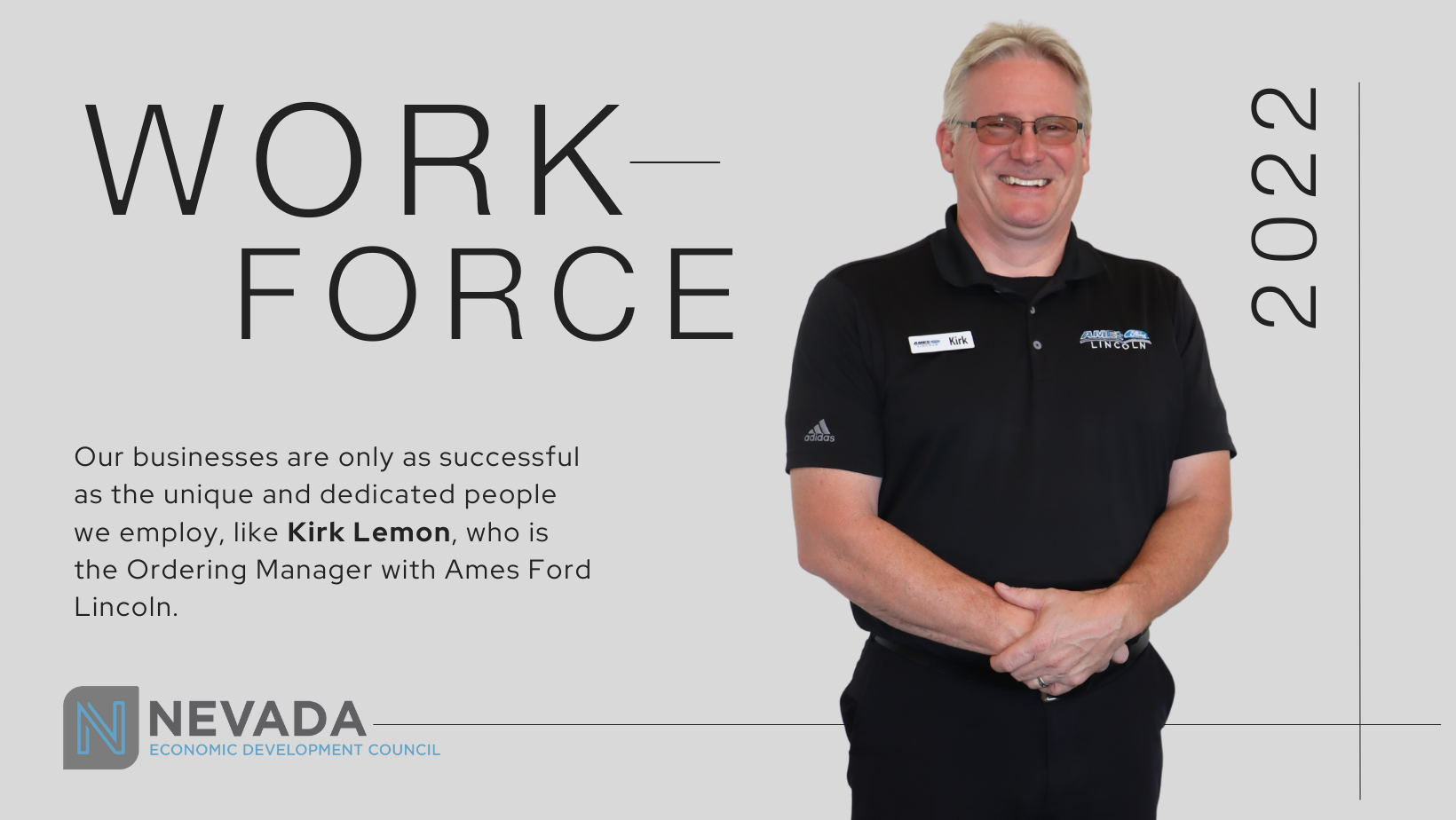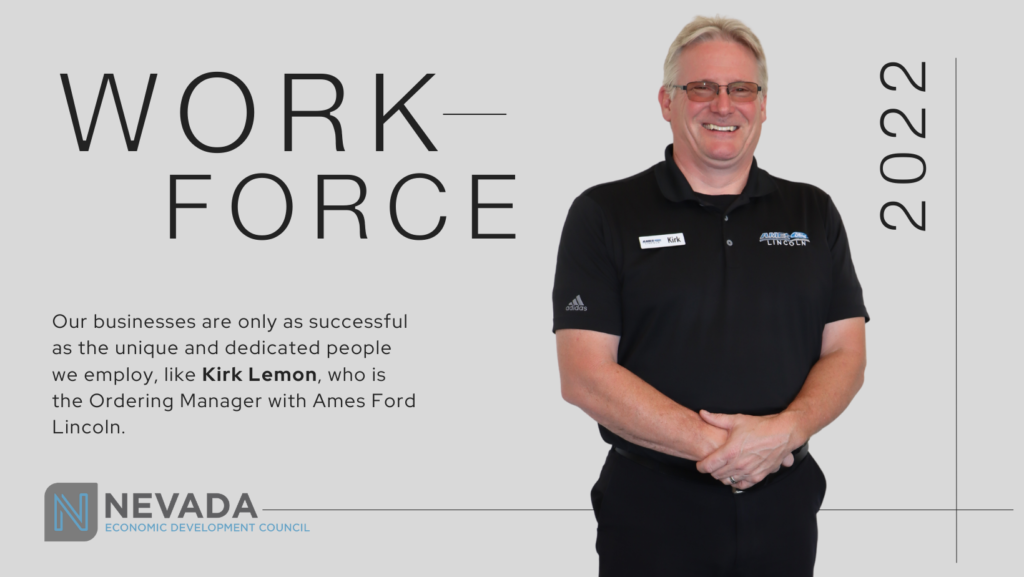 Being in the car sales business has its challenges right now. That is for sure. Nonetheless, the Ordering Manager for Ames Ford Lincoln, Kirk Lemon, intends to see this career through to retirement.
"I have about 10 years (until retirement)," Kirk said, and he's facing the current car industry challenges with a positive mindset. "I always try to look at the bright side. I'm a very positive person. I look at it as 'it will always get better,'" he said, explaining that the "microchip crisis," supply chain struggles and the current economy have changed his job tremendously of late.
Where Kirk would normally have maybe two special customer vehicle orders waiting to come in every six months, he now has over 200 customer orders waiting to come in. "Some things are out of our control right now, and that's hard for me, because I'm a control person," he admitted. Still, he greets every customer with a smile and every day with a can-do attitude.
A FORT DODGE NATIVE
Kirk grew up in Ft. Dodge, Iowa, where he graduated from high school with the Class of 1987. He'd worked for Fareway while in high school, and two weeks after graduation, he said, they offered him a full-time position.
"I became a meat cutter," he said, and he worked for both the Fareway and HyVee stores over a span of 22 years in the communities of Ft. Dodge, Boone, Humboldt, and Brookings, South Dakota.
It was in South Dakota, while working at HyVee, that he became acquainted with a customer who was the son of a car dealership owner. "He recruited me (to the car business). He said with a name like yours (Lemon), you've got to come sell cars."
Kirk decided to give it a try, and in the first six months, he had become the number-one sales person for the dealership. Better yet, "I loved it," he said. He's now been in the car sales business for 10 years.
A natural talker, Kirk said he learned that sales is really all about selling yourself. "If you can build rapport with customers, you don't need to sell them anything. You just need to talk to them, be fair with them, and be respectful of them, and they'll come back to you." He has many repeat customers today, he said.
From Brookings, Kirk came back to Ft. Dodge nine years ago, and he went back to meat cutting first, but soon landed a job in car sales at Kemna Auto, which had stores in both Ft. Dodge and Algona.
His wife, Lisa, is originally from Ames and when he first came to the Ames area, he took a sales consultant job with Bob Brown in the Des Moines metro area. Wanting to work in Ames, as well as sell different brands of vehicles, he brought his resume to Ames Ford Lincoln and talked with General Sales Manager Hans Halbur. "He hired me on the spot." Kirk has never looked back.
"This is the sixth dealership I've worked in, and it's by far the best dealership I've worked in. I like the atmosphere, the culture … it's a very open, easy-going climate… Everyone works together and tries to help each other. And Nick Johnson, the dealer, is good to work for," Kirk said.
AN INTERESTING PASTIME
Outside of his full-time job at Ames Ford Lincoln, Kirk has a very interesting pastime – darts. It's a game he played in leagues in Ft. Dodge.
Now, he's become the Ames dart league coordinator for league sponsor, KD Amusement of Ames. "I am setting up leagues for dart players."
Kirk said there hasn't been a dart league in Ames for almost three years, and he just got the ball rolling again about three months ago. "I have five leagues starting in mid-September that I'm trying to set up," he said. Right now, all games are played at Inside Golf in North Grand Mall.
To help gain more knowledge on setting up leagues, Kirk recently attended a National Darts Association league coordinator seminar in Chicago. "I met people from all around the United States. I met one man who has well over 3,000 dart players signed up each year to play."
He's excited to re-introduce the fun of darts in Ames. "You've got to play it. We use soft tip darts with an electric board. It's a way to get out and meet people and have a good time."
There are many different dart games, but with the league, the most common game will be 501, where the first one to get to zero wins. Cricket is another popular dart game.
Joining a league includes a $15/year state and regional sanction fee, and costs around $5-7 a night to play, Kirk said. He is currently in the process of building a Facebook page for the Ames Dart League, but anyone wanting to sign up, or get more information about the dart leagues, can reach out to him by phone: 515-227-2900 or by email: kirklemon1968@gmail.com.
WORKING IN AMES/STORY COUNTY
Kirk said he loves working in Ames and Story County. "It's clean here. There's always something to do. People are super nice. I've been very happy being in this town."
Are you a Cyclone fan, we asked? "I am now!" was his answer.
For anyone looking to work in the auto sales industry, Kirk said the income potential is fantastic, but you have to be driven. "You've got to have the drive to get up in front of people. You've got to learn your vehicles. You have to teach yourself a lot of things (especially about technology, which is constantly changing the auto industry)." You also have to be able to deal with long hours and the sometimes emotional strain of working with the public, especially in sales.
Kirk loves talking about Ames Ford Lincoln and its successes. "We're the number-one Mustang dealer in Iowa. We're the number-one upfitting truck dealer in our region and the number-one Saleen dealer in the nation. We're the number-one performance vehicle dealer in our region."
If people want to talk to Kirk about the career opportunity and his current position, he welcomes it. "I'm an open book… This (Ames Ford Lincoln) is a terrific company to work for. I've been very happy here."
A FEW MORE POINTS OF INTEREST FROM KIRK LEMON:
• His wife Lisa is a nurse who does in-home care for kids with special needs.
• He has a son who is 34, a daughter who is 24, and a stepson who is 24. He also has a grandson, Jaelynn Raye, born Feb. 11 of this year, weighing 5 pounds, 12 ounces, and 19.25 inches long.
• When he went into car sales, he doubled his income in the first year.
• The word "passionate" is commonly used by others who describe how Kirk feels about his work in the car industry.
• The Ford vehicle he dreams of owning some day: a Mustang GT, in the color yellow (of course, to match his last name!). "It will cost me about $70,000 with how I want it done. It's on my bucket list."
• Besides yellow, his favorite vehicle color on the lot: Rapid Red.
• What he terms the "bread and butter" of the Ames Ford Lincoln dealership: F-150s. And the number-one selling SUV: Escape.
–Written by Marlys Barker, City of Nevada