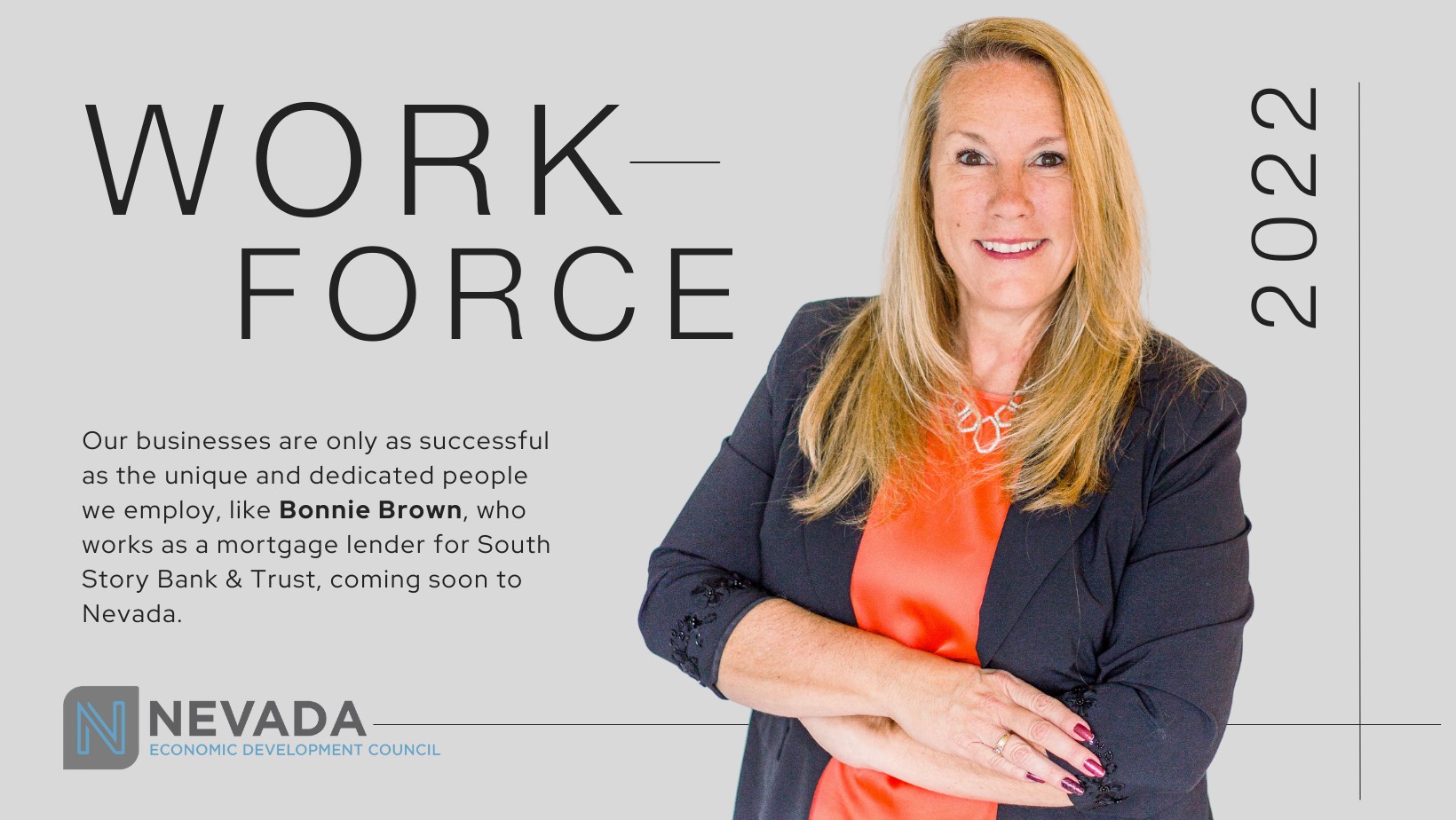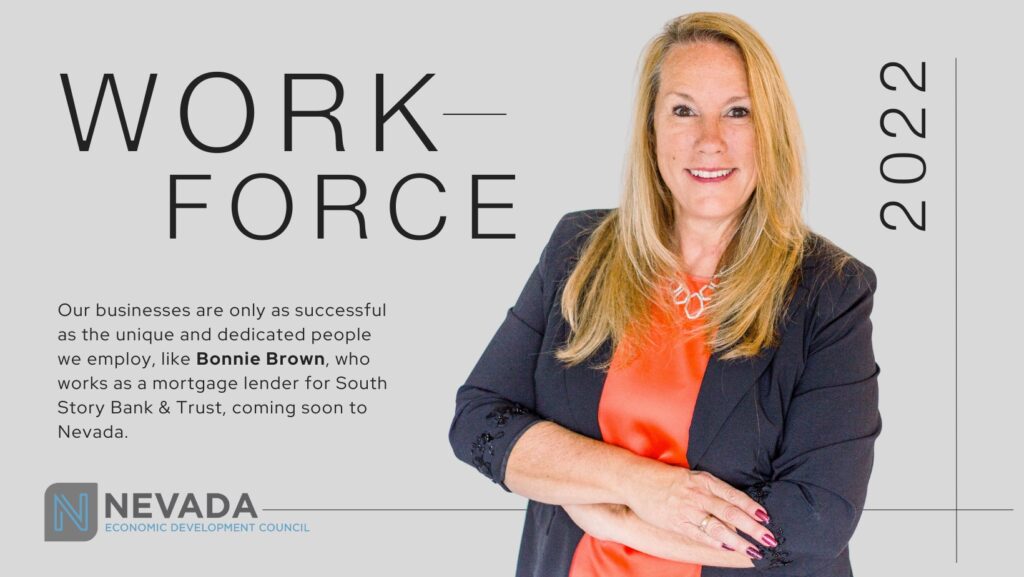 Nevada will soon welcome another community bank to its business base, and a former Nevada resident is as excited as ever that the bank's opening will bring her back to one of her favorite places.
"Nevada has so much charm, and I love the main street area and the shops Nevada has," says Bonnie Brown, who presently works at South Story Bank's Huxley location. She will soon be working in Nevada when South Story Bank opens June 1 along South B Avenue.
Bonnie is a North Polk High School graduate, who grew up in the Sheldahl/Elkhart area.
Being home with her children early on, Bonnie entered the work force as a secretary. She learned a lot at each position she held and eventually landed a job in logistics as a logistics manager for 15 years.
"It was a very stressful job," Bonnie said of logistics. She began thinking about a change, and with a husband who worked in construction and the fact that she had helped him remodel and build several homes, she was strongly considering becoming a Realtor. "Then a friend said, 'What about being a mortgage lender? They definitely need organization skills and you need to be a people person.'"
Bonnie was interested. She took online classes and then a board test. It was almost seven years ago, she said, when she took her first mortgage lender position. She's loved the career.
"I love helping people, and I love helping people realize that they can own a home. It's enjoyable to educate people and help them realize their dreams, or help them figure out a plan of what they can do to get to the point of owning their own home."
She worked with Michelle Fullerton at one of her bank positions, and then followed Michelle to South Story Bank & Trust. Michelle will also be housed in the bank's new Nevada location as the Market Vice President for Ames/Nevada.
Taking the position with South Story Bank in 2021 was sentimental for Bonnie. "I had my first checking, savings and auto loan with South Story Bank over 30 years ago," she recalled. "It was always in Slater and being from a small town, that's just what you remember."
She can't wait to introduce others to South Story Bank, which she said is still very customer and community-focused. "Coming to Nevada will make our bank even better, because when it comes to hometown values, Nevada is like the other communities our bank serves. I like that working at a smaller community bank allows me access to my bank president and CEO. I love that we can collaborate and think outside the box and use common sense. Being employed at South Story Bank has been a true blessing to me."
Other fun things to know about Bonnie Brown:
• Her husband, Ryan, is owner of RMB Construction. He and Bonnie presently live at Randall in a house they purchased online, sight-unseen. "I loved that it was an older house and that we could give it new life. My husband can fix anything, and it's like a brand new house now," she said.
• The Browns lived outside of Nevada and Bonnie's three children — Amber, Adam and Austin –graduated from Nevada. Today, Amber is the Director of the Library in Lohrville; Adam is a Nuclear Engineer for the Navy and has been stationed in Japan for almost four years; and Austin is the Construction Supervisor for RMB Construction in Ames.
• Bonnie was a cheer coach at Nevada High School for about five years, 2005-2009.
• Bonnie is an Iowa State fan.
• Bonnie has two granddaughters (Amber's daughters) and loves doing everything with them. "We just bought an RV to take them camping this year. Watching life again through their eyes, it's amazing."
• Bonnie has enjoyed attending a few of Nevada's Mix & Mingles and is very excited about the upcoming Pizza•Pie•Looza on May 14, because she loves Jo Dee Messina. She has her tickets purchased! "I love that Nevada has so much going on!"
South Story Bank & Trust will hold its Grand Opening on June 16, from 4:30-6:30 p.m. at 1601 South B Avenue in Nevada. The community is invited!
–Written by Marlys Barker, City of Nevada