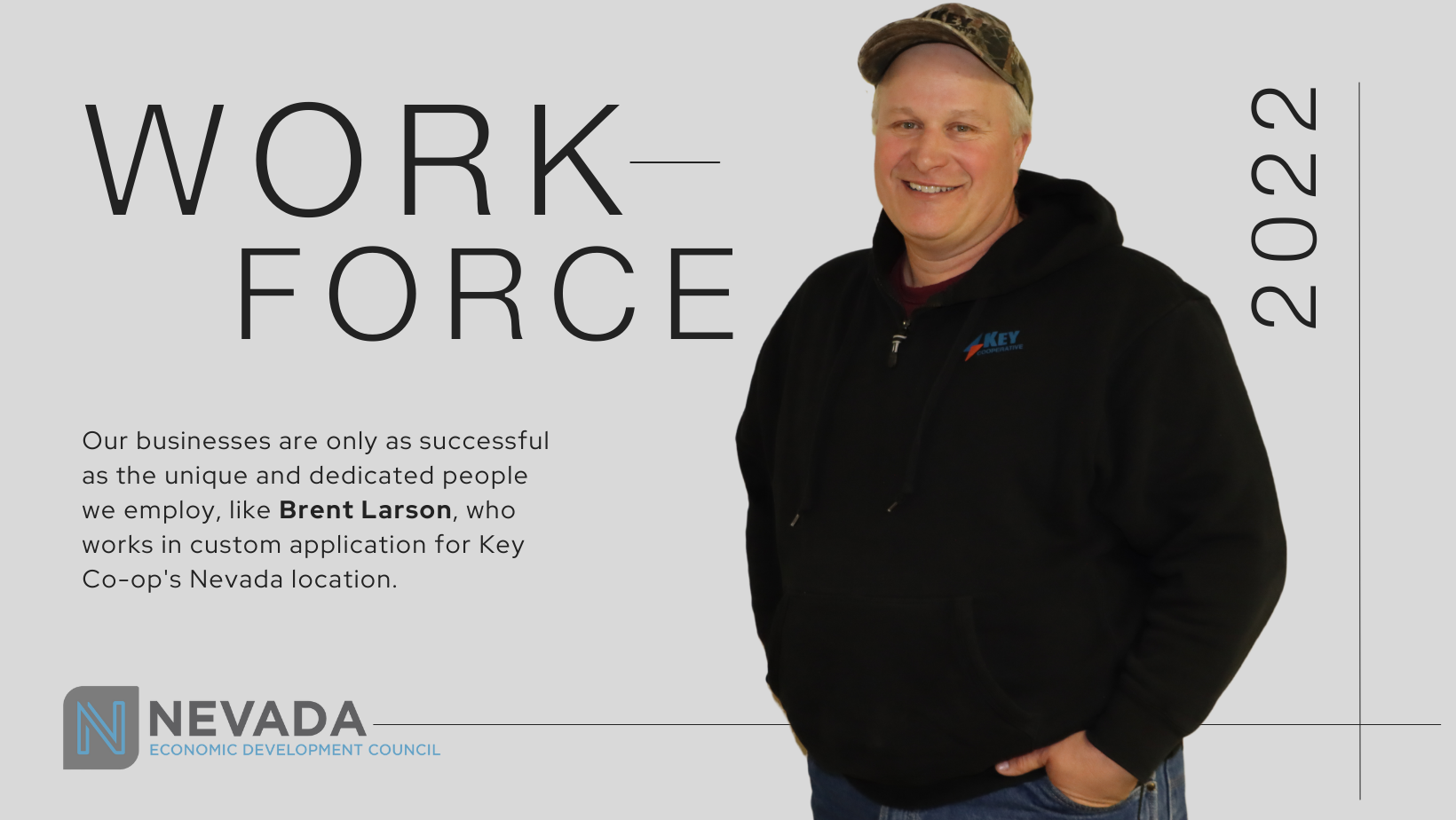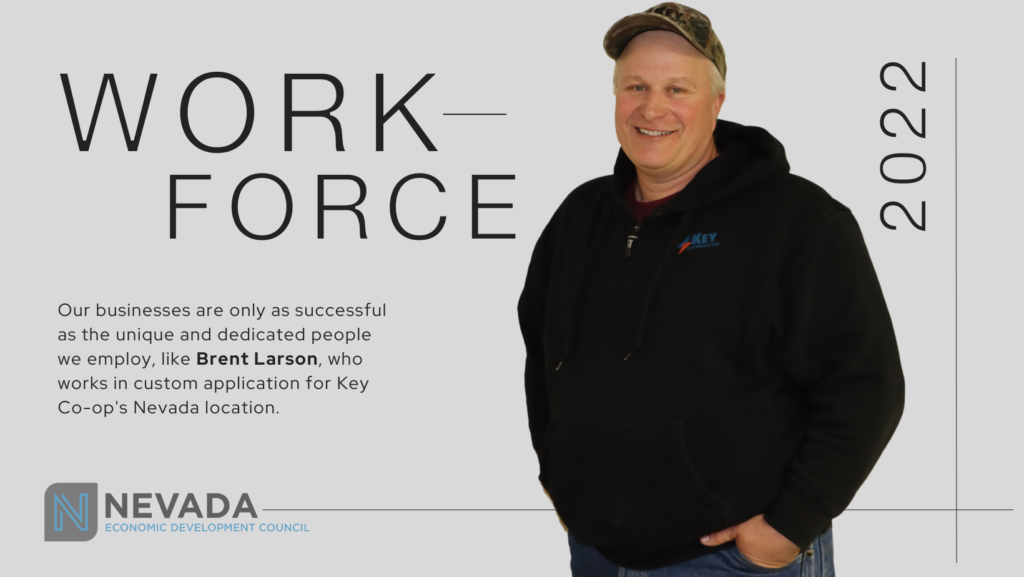 These days, it is rare to find long-time employees who have stayed with the same job throughout their career. Brent Larson is one of those rarities.
Brent, 50, is in his 31st year working for the local cooperative, now Key Cooperative. For most of the past 30 years, he has worked at the co-op's Nevada location.
"I started out (after high school) at DMACC in the ag business program, and I needed an internship. I came to the local co-op for that internship and then came on full-time after graduating (from DMACC)," he said.
Brent worked at the Story City and Roland locations for a few short years and then came to Nevada, where he has worked in custom applications. "I have spread dry fertilizer and sprayed post-emergence crops," he explained. Moreover, after spending many years running equipment out in the field, Brent is currently transitioning to doing more of the loading out work. "I'm kind of a yard man now," he said.
A 1989 Collins-Maxwell High School graduate, Brent has lived in Nevada since 1997. The soft-spoken guy with an easy smile said he liked the idea of working for a smaller company where he knew everybody. He also liked the co-op's values of treating its employees like family and serving local families.
"I'm proud of Key Cooperative because it's a service-oriented business. We service our customers and farmers in a timely manner," Brent said.
He describes Key Cooperative as having four core business areas: agronomy, grain, energy, and feed. "We have a lot of resources and knowledgeable people to access information and different equipment to get the job done. If a customer needs something, we can usually get it for them," he noted.
Brent was hired by Jim Penney. Jim, who later became the co-op's general manager, was the agronomy manager when he hired Brent. "Jim always said, 'If you come here, it's the closest you can get to real farming without spending your own money,' and I've held that comment with me all these years."
It is true, Brent said, that he has learned a lot about farming, and a few years ago, he started farming some rented land himself.
"I've always helped on my dad's farm, too," he said. Not only has he enjoyed working in the farm industry, but he also enjoys farming. Part of his transition to being on-site at co-op more than out in the field is that it will allow him to take time off, when needed, to farm on his own. He loves being part of the "miracle" of agriculture.
"When you really think about it, it's so amazing how you put all these seeds in the ground, and they come up," he said.
Brent has made many friends over the years through his job with the co-op. He even met his wife, Missy, while working with her brothers and father at the co-op. Missy, whose maiden name was also Larson, is a 1992 graduate of Roland-Story High School. She has a degree in Child and Family Services from Iowa State University and has run her own in-home daycare as her lifetime career. It was a wonderful way to also care for her own children before they started school.
Brent has a great appreciation for being part of Nevada's work force. He likes seeing new businesses and development happening in the Nevada area. He also appreciates the longevity of many businesses, including the local co-op.
"I'm starting to see third, and sometimes fourth, generation of farmers coming through. It makes me proud to see that they are still doing business with us," he noted. "To me, that shows we are doing something right!"
Other fun things to know about Brent Larson:
• He was involved in football, chorus, and band at Collins-Maxwell High School.
• His parents, Virgil and Diane Larson, still live and farm west of Maxwell. His mom is also a retired special education teacher who taught at Ames High School.
• Brent has a younger brother, Aaron, who now lives in Huxley and works for Greenland Homes. Aaron graduated from Collins-Maxwell in the late 1990s.
• Brent and his wife, Missy, have three sons: Jacob, a senior at Iowa State who is studying software engineering; Zach, a student at Northeast Iowa Community College in the John Deere Tech program and also a Nevada firefighter; and Nick, a sophomore at Nevada High School.
• Brent's favorite hobbies/pastimes include spending time with his family, especially vacationing several weeks out of the summer at their cabin in northern Minnesota; going to Nick's sports activities – he plays soccer, basketball, and baseball. Brent is also a Nevada Boy Scout leader, something he got involved with when his son Zach wanted to join as a youth. Zach became an Eagle Scout, and now Nick is close to doing his final project to become an Eagle Scout. "Scouts really opens a lot of doors for young people. I wasn't involved myself as a kid, but I think it's a really great way for youth to be prepared for life, as the Scout motto says."
–Written by Marlys Barker, City of Nevada