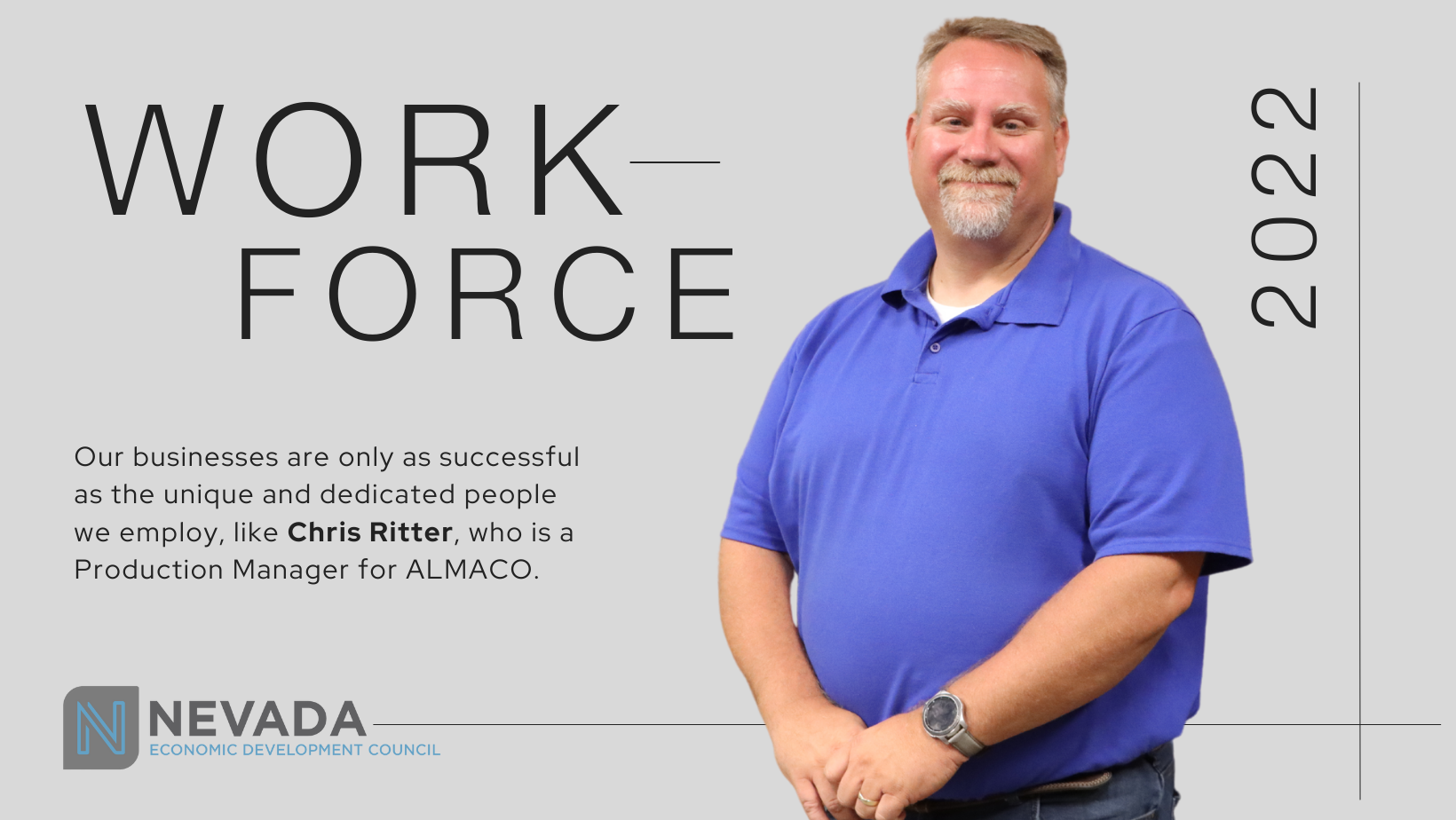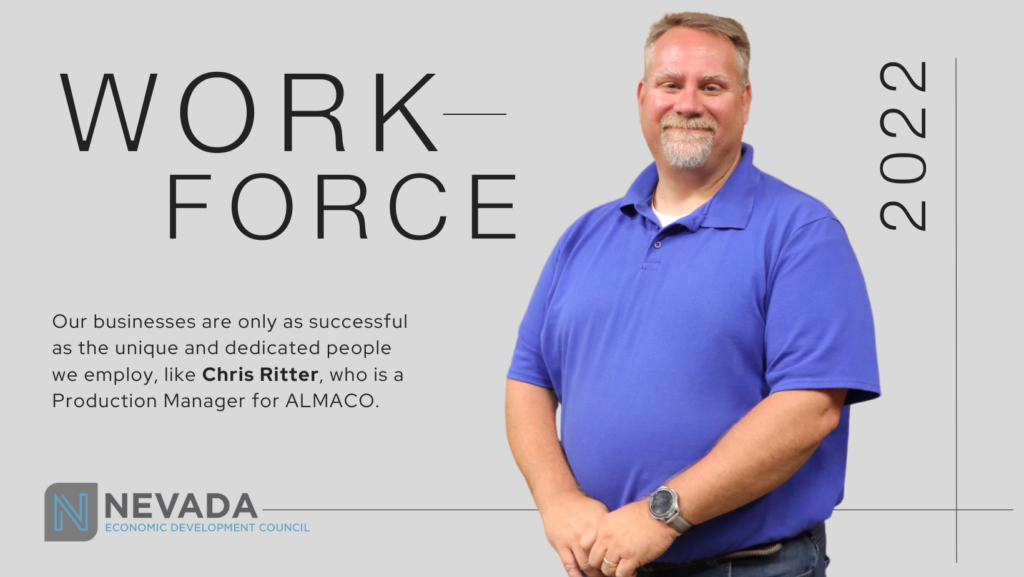 Almost 15 years ago, Chris Ritter began employment with ALMACO in Nevada, and he does not regret the career move.
"I started off at ALMACO as a welder and worked in the weld shop probably five or six years, and then went to QA (Quality Assurance), and from there to supervisor and now manager," he said.
As a production manager for ALMACO, Chris oversees the weld shop, weld material prep, and the machine shop. "I take jobs due for final assembly and make sure they're done on time."
Chris said he is busy every day and wouldn't have it any other way.
A 1992 graduate of Nevada High School, Chris' high school days included playing football and working. "I worked at the Starlite (restaurant), which later became Legends. I worked for Cliff Fry first and then for Helen and Wally Wolken. I also worked with 'Smokin' Joe Anderson. I moved over to Minsky's Pizza and worked there until I graduated."
After graduation, his first full-time job was at Ames Computer Forms. He was there seven years, and then he and his wife, Tami (who also went to Nevada High School), bought Legends.
"We owned Legends for two-and-a-half years. When we left that, I went back to Ames Computer Forms, but I was on nights and wanted a change." ALMACO was hosting a Career Fair. Chris attended it, and the rest is history.
Though he didn't have on-the-job welding experience, Chris had learned welding while growing up in an "automotive family" north of the tracks. "We liked to work on cars," he said about himself and his two older brothers, Todd and Tim, also Nevada High School graduates. Todd now works for the City of Cedar Rapids. Tim lives in Nevada and works at 3M.
Along with welding experience, Chris also has a lot of experience cooking food, and he's never really quit cooking.
Many are familiar with his and Tami's business, "Smokin' Critters," but you might not know the true meaning of the business name. "Critters," Chris explained, "was actually my nickname in high school. It came from football. My brothers were both T Ritter on the back of their jerseys. I was C Ritter, so they called me Critter. So it just made sense if I was going to have a smoking (meat) business, why not just use my name!"
Chris and Tami have a Smokin' Critters food truck and catering business. The food truck started seven years ago. The Ritters were into barbecue competitions, but those got expensive, so they started the food truck to make some money back. Now, Chris said, he's ready to cater and compete again.
Food trucks can, pardon the pun, "eat up" a lot of time. "I'd like to focus a little more of my time at ALMACO and make sure things are going as they should." He also wants to spend his free time doing things he enjoys, barbecue competitions, camping with family and friends, and riding the Harley.
One of the benefits Chris enjoys most about working at ALMACO, he said, is the ability to have "work-life balance" because of the company's flexible scheduling practice. "We have core hours, but if something happens (during the regular work day) … you just call in and make the time up (on a weekend or later in the evening). We do get into some overtime needs now and then, but I really appreciate the flexible hours." The flexibility applies to all floor workers, he added.
Chris is proud to be an employee of ALMACO. Today kids have opportunities to learn welding while in high school, but Chris said ALMACO has its own training center, as well. "When new people come in, we run them through our training program to get them to the skill level we need."
Chris is also happy to still be a part of the Nevada community where he was raised. "I may complain about the town sometimes, but I do like it here. If I didn't, I would have left."
A FEW OTHER points of interest about Chris Ritter:
• He and Tami married when he was 21 and she was 19. Tami works for State Farm Insurance in Nevada.
• The Ritters have two sons: Johordan, 26, is married and serving in the Army in Italy. He works in IT. Dawson is 23 and worked at Fareway for several years, but has recently become an employee at ALMACO, working second shift.
• The Ritter family lives in the Nevada 'suburb' of Fernald. "We like to say we live in the country, and I like it. We have good neighbors, and it's not real high-end. If you get home, and you don't want to mow your lawn, you don't necessarily have to. You can just be like, 'I'll do it tomorrow.' No one will care."
–Written by Marlys Barker, City of Nevada