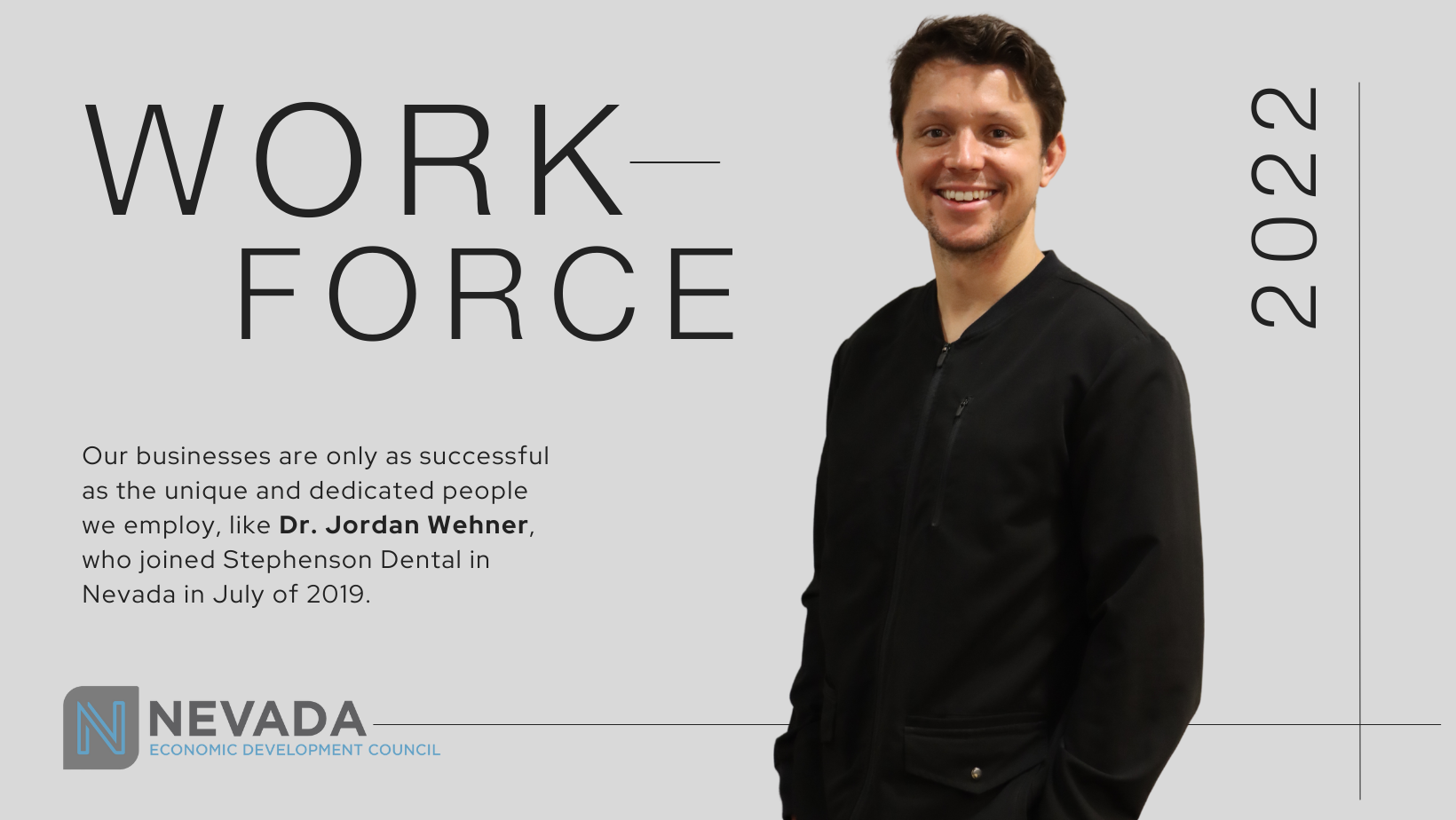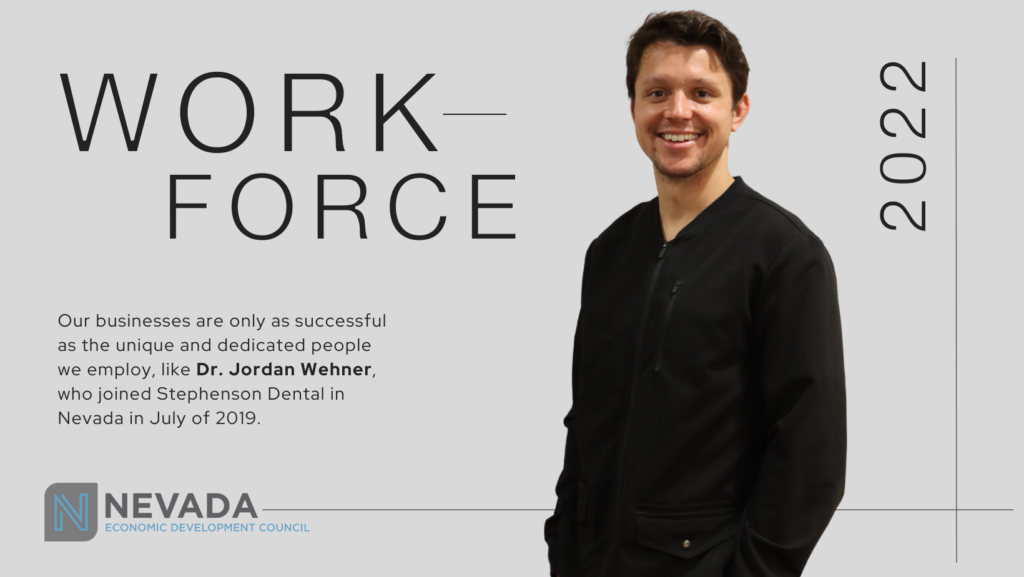 For close to two years, patients of Dr. Bernie Stephenson's dental practice in Nevada have been seeing a new face sharing in the dental doctoring duties.
Dr. Jordan Wehner, a native of Schoolcraft, Michigan, joined the practice on July 22, 2019.
Jordan didn't know it at the time, but his decision back in 2014 to attend Midwestern University in Downers Grove, Illinois, for his dental training would eventually connect him to Story County and Nevada, Iowa.
While attending Midwestern University, which he graduated from in 2018, he met his now-wife, Mackenzie Cahill, a 2007 graduate of Nevada High School and the daughter of Nevada residents Joe and Margie Cahill. Mackenzie is currently a dentist at North Grand Dental in Ames, where the couple resides with their 8-month-old daughter, Emerson Rose, and their two dogs and two cats.
Dr. Stephenson had been exploring the idea of having an associate join him at his practice, and the timing could not have been better for Jordan, who had chosen to take an extra year of residency after his graduation. "When my residency ended, he was looking to hire," Jordan said.
Jordan believes it has been a good dentistry match between himself and Bernie, who opened Stephenson Dental in Nevada in 1997 in the downtown area and then moved to Fawcett Parkway in 2002.
"He's (Bernie) a great mentor and has done a lot to help me and teach me when there are things I'm not sure how to tackle," Jordan said.
Best of all is that the two share a philosophy when it comes to "patient-centered" care. "One of the courses we had in school was on how we would want to treat patients," Jordan said. One style of care is "authoritarian," telling patients what they should do. "I wanted to be more of a patient-centered doctor, and Bernie is like that too. We listen to patients, and give them choices."
Jordan appreciates the ability to help patients understand their options but then let them make the final decision for care. "I don't know where they are financially. I don't know how they feel about having teeth removed… I can do my best to try to convince people to do certain things because I think it might be better for their overall health, but in the end, it's their decision."
Jordan says he knew he wanted to go into some type of medical care from his first year of high school. When a class he was taking required him to do a job shadow, his mother suggested he shadow their family dentist. "I called him up and it worked out."
During the job shadow, Jordan loved the way the dentist interacted with his patients throughout the day. "He knew all of the patients and treated them like family. And, people were excited to see him. It wasn't like you were seeing people only when something bad happens. You get to see people every six months (generally) for cleaning visits."
Jordan could see himself enjoying those types of relationships and a career in dentistry.
After graduating as valedictorian of his high school class in 2010, he enrolled at Kenyon College, a Division 3 school in Gambier, Ohio. He earned a degree in chemistry for Kenyon College in 2014. He also played football and ran track for Kenyon. He went straight from there to Midwestern, and he liked the location of Midwestern because his sister was living in Chicago. "That helped," he said. He also liked that Midwestern University's dental program wasn't focused on specialties. There were a lot of experiences and opportunities you could have. We did all of our own root canals, placed implants, did extractions…lots of things."
The first two years of dental school included a lot of bookwork, but in the last two years, there was a lot of experience working with patients. "We did a lot of self-assessments after working on patients, and then, of course, there were the boards (exams)."
He and Mackenzie graduated from Midwestern together. They got married a year later, in May of 2019, just a couple months before Jordan started his job with Stephenson Dental.
You might think two dentists, married to each other, would talk about teeth at the dinner table every evening, but Jordan said it isn't like that for him and Mackenzie. "We might have an occasional discussion about a case we're working on, but we don't really talk too much about dentistry. We frequent the gym a lot and like being outdoors. We go on bike rides and are training for a marathon together." His wife has run "many marathons," he said.
Jordan likes working in Nevada. He enjoys making stops at MiCasita, Bricktown Bakery, and FarmGrounds. He likes that Nevada is similar in size to his hometown.
He also likes being a dentist, even though, he admits, he didn't think about how much work there is in a dentistry practice with the business side of it. He is learning about all of that, too.
"Bernie has done a good job of giving me small things (on the business side) here and there, and I'm kind of in charge of IT – I wouldn't say I'm good at it, but I'm O.K."
Other fun things to know about Dr. Jordan Wehner:
• In high school, he was involved in football (played tight end and outside linebacker, and his team made the playoffs most years), track (ran mostly 400s), basketball and wrestling. He liked the exercise and competitiveness of sports.
• He has two siblings, a younger brother, and an older sister. His sister works in advertising consulting, and his brother followed his example and just graduated from dental school.
• When it comes to watching TV, he and his wife are big fans of Dateline.
• Jordan has taken up a new sport, golfing. He is a member of Nevada's Indian Creek Country Club.
• His favorite college football team? Bernie says Jordan is an Ohio State fan but will cheer for the Iowa Hawkeyes because his wife makes him!
• If he hadn't gone into a medical career, he predicts he might have ended up being an accountant, like both of his parents. He admits, however, that he took a few accounting courses, and didn't really like them.
–Written by Marlys Barker, City of Nevada