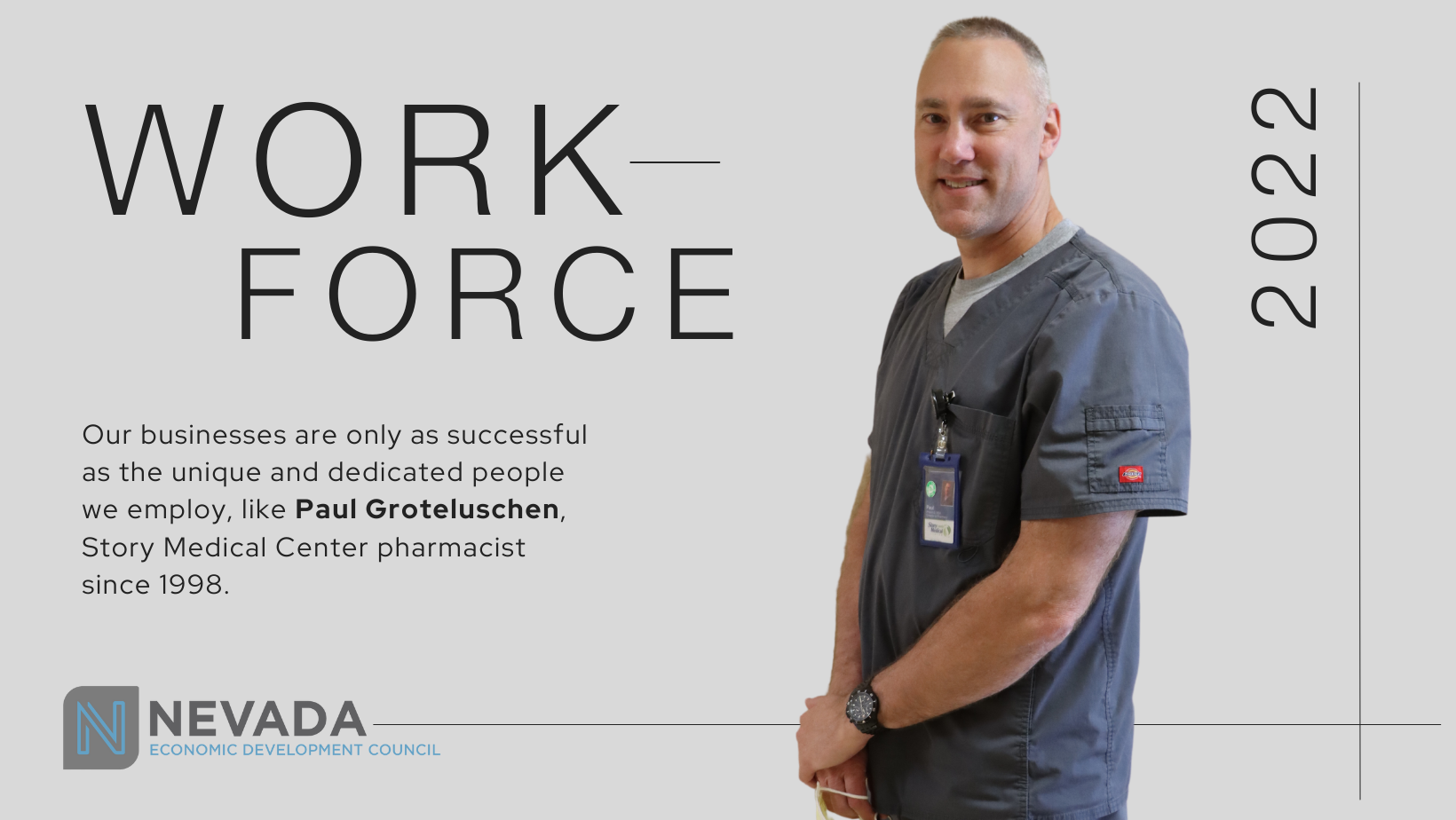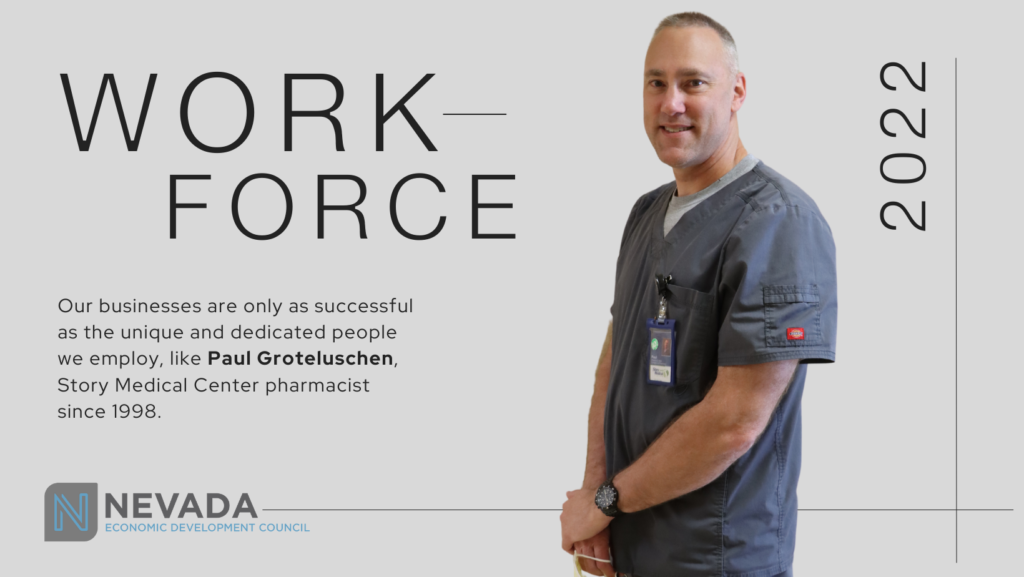 Paul Groteluschen has never resided in Nevada, but he has been working in the community as a pharmacist for Story Medical Center for nearly 25 years.
Paul began his career in January 1998 in the old hospital building on Sixth Street. His office was in the basement of that building. "I'd hit my head on the pipes and the rafters down there," he said.
The move to the new hospital was roughly 12 years ago, and it was a welcome update. "The new hospital was modern… and was cutting-edge for the time," Paul said. He said the pharmacy area of the current hospital is still a good space for him and his team. He does anticipate updates to the area at some point in time to meet new requirements and protocols, especially in the area of compounding and sterile preparations.
One of the reasons Paul – who finished his pharmacy doctorate in May of 1993 and his MBA in December of 1993 at Creighton — took the job in Nevada was to do something managerial. His first job was at Broadlawns Hospital in Des Moines, where he rotated between the hospital and its retail pharmacy, spending most of his work time in the retail pharmacy.
While he was studying to be a pharmacist, he experienced many pharmacy occupation roles. The role he liked best was working in a hospital pharmacy. "It's got more variety… You see more cases and deal with more critically ill people." Paul enjoys the challenge of hospital care.
Paul gives two more reasons why he has stayed at Story Medical.
First, he likes the people. "These people become part of your family." The other two employees on Story Medical's pharmacy team, Jamie Deveno and Megan McGehee, have been there for over 10 years. Paul enjoys working with them.
The second reason has to do with commitment, a value that is at the core of who he is. Paul has been married to his high school sweetheart, Lori, for 32 years, and he dated her for eight years prior to their marriage. He has also been committed to his military career. He joined the Iowa National Guard when he was 20 years old, and said he plans to stick with it a few more years until he ages out at 60.
IOWA NATIONAL GUARD SERVICE
Paul joined the Iowa National Guard because of the benefits it gave him to further his education.
A 1983 graduate of Audubon High School, Paul said he started college at Iowa State University, trying to make passing grades while also working to pay for his education. It was a struggle.
"I finally looked into the Iowa National Guard, and they offered a student loan repayment program, the GI Bill … and all kinds of benefits."
He joined 37 years ago, and went straight through the Guard's basic and advanced training at Fort Benning, Ga. "For any kid who can't afford to go to college and is physically able to join the Guard, I would highly recommend it. When I did it, I didn't intend on staying in this long." But again, it goes back to the people, who become another close family, and his pattern of commitment.
Back in 2018, Paul was featured in the local newspaper when he was about to depart on a one-year mission with the National Guard to Kosovo. It was his first and only overseas deployment, and it went well. Generally, he serves the Guard one weekend a month, and completes 15 days of training per year.
WORKING IN NEVADA
Today's Nevada reminds Paul a lot of the way his hometown of Audubon was when he was growing up there. He enjoys Nevada's busy main street area. He frequents Subway and enjoys Snack Time. His wife has even driven to Nevada and had lunch with him at Snack Time, he noted.
He likes the Ben Franklin store. "We used to have a Ben Franklin in Audubon, but you don't hardly see those stores anymore."
Another similarity, the Nevada Post Office building. "It looks a lot like ours in Audubon," he said.
Paul has enjoyed his years of working in Nevada, which is a daily commute from Urbandale, where his family resides. His wife is a nurse, who recently transitioned from a job where she traveled a lot to a job close to home. "She works for a surgical center in West Des Moines as their quality coordinator. She's liking it," he said.
Paul and his wife have two sons: Hunter will be a junior this coming fall at the University of Iowa, and Peyton is a senior in the West Des Moines Valley School District.
MORE INTERESTING NOTES ABOUT PAUL GROTELUSCHEN
If he has an hour to watch TV – "I'd watch 60 Minutes. I like shows with investigative reporting."
His favorite pastime – "I'm a Scoutmaster for a Boy Scout Troop in Clive, Troop 208." He's been helping with the troop since his boys were young and has been a Scoutmaster for at least four years now. Both his sons are Eagle Scouts. And, they enjoyed some great trips with their troop: A canoe trip to Ely, Minn., and a backpacking/hiking trip to Philmont Scout Ranch in New Mexico.
If you hadn't been a pharmacist, what career might you have pursued? Without hesitation, "a farmer." Paul said his mom's parents were farmers and his dad's parents owned a farm and a John Deere dealership in Audubon. "Mechanics would let me help them tear apart engines and mess around as a kid." Paul also took a semester off from college to help a high school friend and his dad with harvest on their farm. "I just loved that."
Sports he played in high school: Football, cross country, basketball, and track. He won the State Title for 800 meters in track.