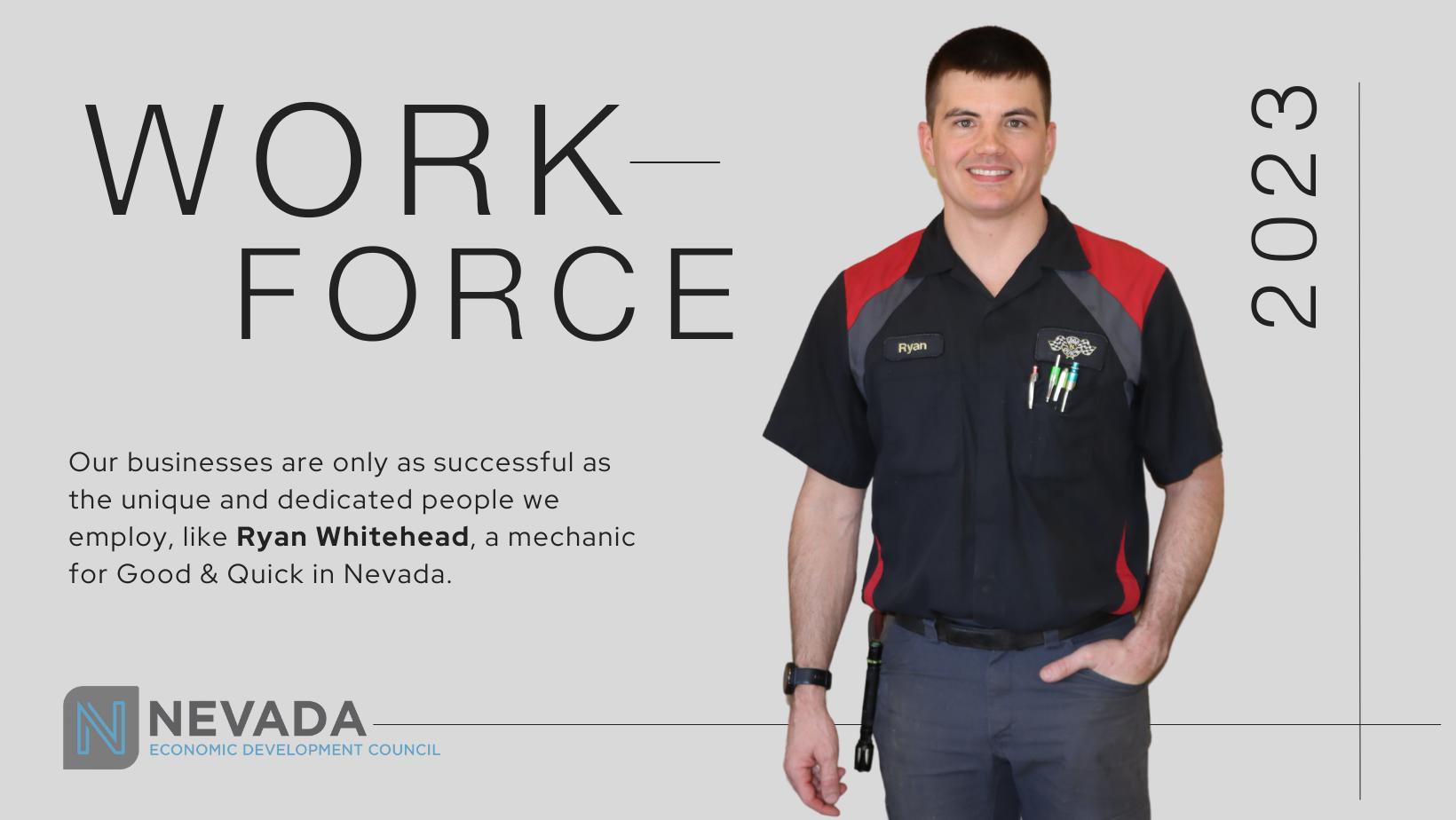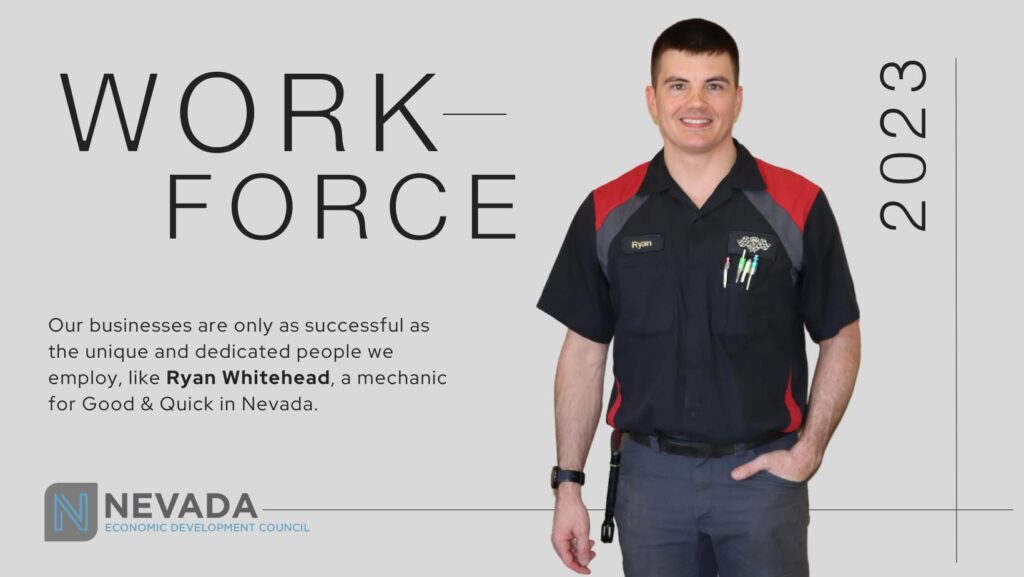 Ryan Whitehead has hung around or worked at Good & Quick in Nevada for so long that many people mistakenly think he's one of owner Charlie Good's sons.
The truth is, Ryan first became acquainted with Good & Quick because his own father, Ernie Whitehead, worked for Charlie, and Ryan's brothers, Chris and Corey, also worked for Charlie at one time. The three brothers grew up around automobiles and auto mechanics, learning from Ernie.
Ryan said he started hanging out at Good & Quick as a kid, and then started working in the garage when he was a freshman at Nevada High School. After graduating from NHS in 2003, Ryan also went through the auto program at DMACC, while continuing to work at Good & Quick.
His dad and brothers eventually moved on in their careers, but Ryan has stayed put. He likes working for Charlie and doing the variety of things they do at Good & Quick. "Every day is different. We do tire repair, oil changes, brakes, suspension work … pretty much anything people need. We hopefully keep people from having to go somewhere else."
Mechanic work, like most things, has changed dramatically through the years and through the introduction of all kinds of technology. Ryan said he keeps up with the changes by doing as much training as possible. He can work on many things with newer vehicles, but he emphasizes, "If we can't do something, we'll tell them they need to go to the dealer."
A rare but treasured moment is when he has a chance to work on an older vehicle. "I just put an engine in a Firebird. I think it was an '82," he said. The best thing about working on the older cars, he noted, "you have more room."
For the past 12 years, Ryan has had a sidekick in the Good & Quick garage, Matt Litchfield. The two like what they call a "pretty easy-going atmosphere." They like to have fun, and they like helping people with whatever they need when it comes to their vehicles.
"We're here to help the community with a need. People need their vehicles," Ryan said.
When he's not working, Ryan stays busy with family and exercise. He and his wife, Ashley (Heintz, also a Nevada High School graduate), got into kickboxing around 2014 with The Arena. They saw people doing CrossFit and that piqued their interest in trying it too. Ashley likes running, and they've both done some of the Runners United Nevada runs in town. But running, while a part of CrossFit, isn't Ryan's favorite thing. He likes the weight-lifting and gymnastics elements more.
Ryan and Ashley have three children: Brody, who is in third grade; and twins Avery and London, who are in kindergarten.
Having wrestled in high school, Ryan, for about four years now, has been helping coach in the ESC youth wrestling program. "I enjoy helping the youth in a sport that I once liked to do," he said. His kids are all involved in wrestling, and Ryan is especially glad to see girls' wrestling sanctioned at the high school level and giving young girls something to work toward.
A few more fun things to know about Ryan:
What does he enjoy watching on TV? YouTube videos of people with homesteads and their own businesses. "It's crazy the amount of money people make putting out videos of stuff they like to do."
What is his favorite family pastime? Going fishing. "We like fishing anywhere there is water. We do in-town spots a lot, like Wilson Pond or SCORE. We also like going fishing in southern Iowa."
What is his favorite home-cooked meal? Steak on the grill, which he usually makes. "If my wife is making something, my favorite is any type of roast, or beef and noodles."
What is your favorite community activity? "We like going to any of the parades, and this year we are looking forward to Pizza Pie Looza. There are some good acts coming. I love old school country music. And my son, Brody, loves it too!"
The nicest thing about working in Nevada? "It's convenient. I don't have to drive very far."
–Written by Marlys Barker, City of Nevada