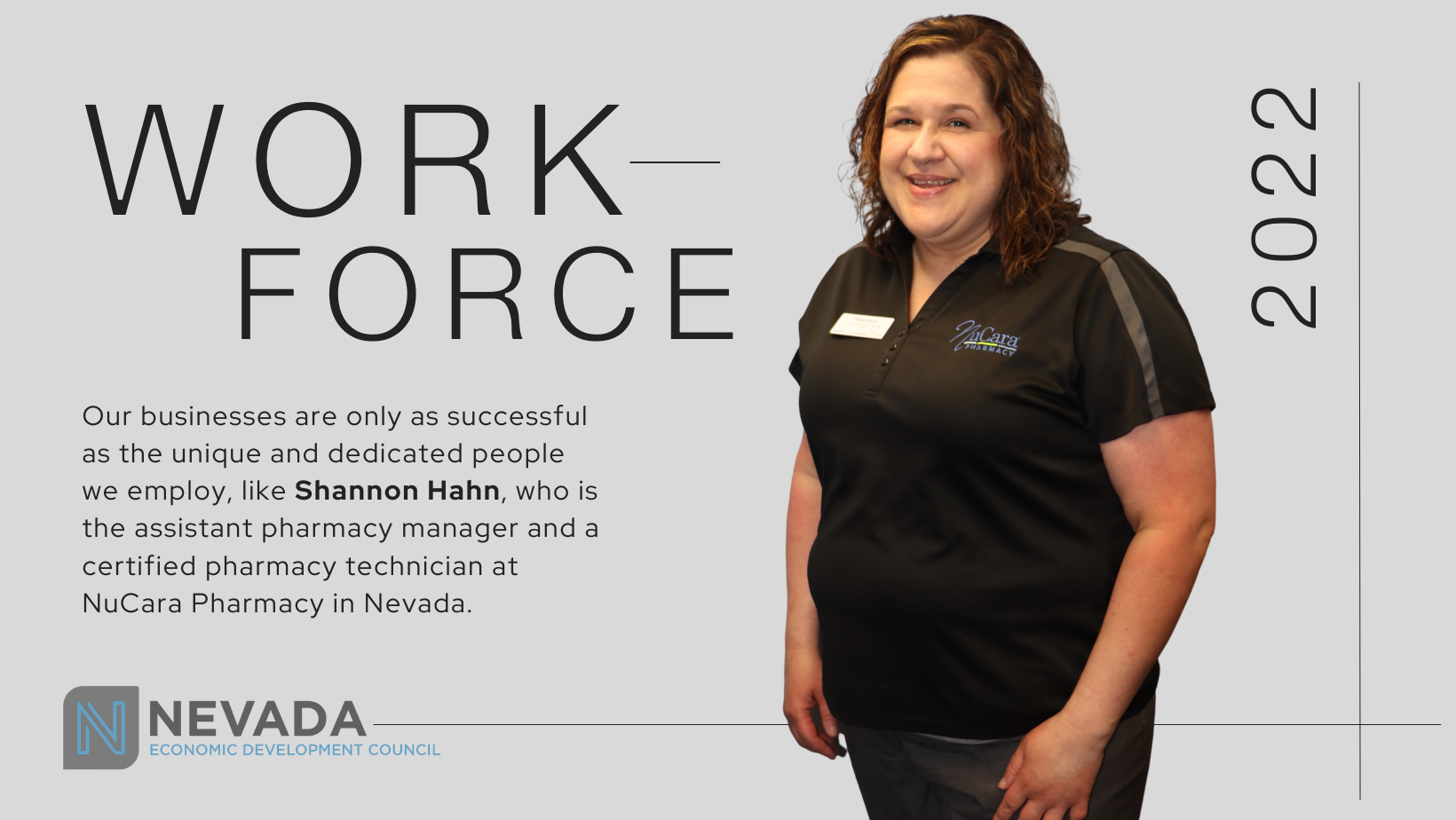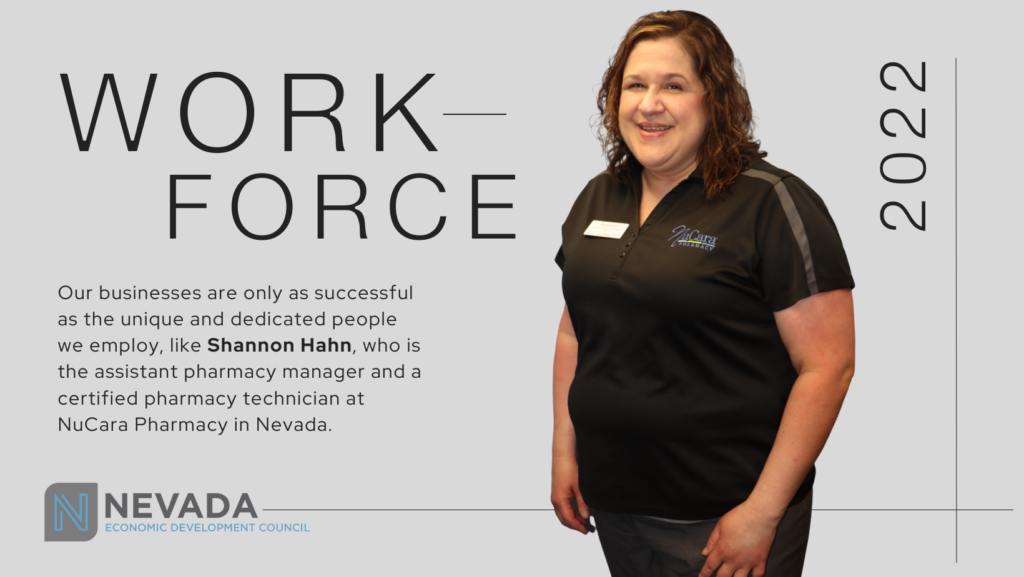 For a little over 12 years, Shannon Hahn is the friendly face most NuCara patients see when they're going into the pharmacy to have a prescription filled.
"I definitely enjoy the people who come in. I wish I had a little more time to chat with them, but I always enjoy seeing them," said Shannon, who noted the best part of her job as assistant pharmacy manager and certified pharmacy technician is working with the public.
Shannon grew up in the little town of Stout and attended Dike-New Hartford Schools, graduating from high school in 1994. She then studied photo journalism and portrait photography for two years at Hawkeye Community College in Waterloo.
After college, she opened a portrait studio in her parents' home and utilized her photography training on evenings and weekends, while working full time at a grocery store in Parkersburg.
By 1998, she had married and was living in New Hartford. She was still doing photography, and also working at a grocery store. However, when her first child was born three months premature with some significant health concerns, "I got out of photography to be able to spend more time taking care of her."
When her first marriage ended, Shannon worked in several positions and eventually moved to Nevada, where she took a job at Smitty's grocery store, which was located in the building at the corner of Sixth Street and I Avenue.
It was at Smitty's that she met her husband, Justin, who was also employed there. Justin now works at 3M. The two have been married since 2008.
Shannon did a short stint at Heartland Senior Services as an administrative assistant. She was working there, in fact, when she noticed that NuCara Pharmacy in Nevada was advertising for a pharmacy technician. The idea of working just blocks from where she lived appealed to her, so she applied.
WHAT DOES HER JOB ENTAIL?
As a pharmacy technician, "we get everything ready for the pharmacist," she said. "Most prescriptions come in electronically now from the doctor. I'm usually down front. I greet people when they come in, enter all the prescriptions – so there's data entry work involved. I basket the prescription up, it gets filled, I count the bottles off the robot, and then when all that is done, it goes to the pharmacist to verify that everything is correct."
People who are successful as pharmacy techs, Shannon said, need good customer service and people skills, the ability to work in a fast-paced environment, and the ability to multi-task.
She also, within a year of her employment, had to become certified by passing an exam. She studied for it, and passed it on her first try just six months into the job.
"You have to be able to say all the drug names and know the difference between the generics and brand names," she said. It was a lot to learn, she admits. She must recertify every two years by taking continuing education courses.
On the assistant pharmacy manager side of her job, Shannon helps NuCara's pharmacist, Nick Lund, with administrative tasks like paperwork, audits, and working with insurance companies. "I've sat on the phone for over an hour at times, trying to get claims to go through," she said. But it's worth it to her, because she wants to make things easier for the patients. "I like to have it so all they have to do is come in and pick up their medications."
When she first started with NuCara, Shannon did the fittings for diabetic shoes. "I would go to Conrad, Traer, Ackley, and Story City," she said. It familiarized her with the many locations that are part of the NuCara Pharmacy company. She also has helped in Zearing at the small pharmacy there. "Everyone (at NuCara) tries to stay well-connected (between the offices) so we can fill in as needed, or help with questions. We've always got this lifeline together."
One of the things Shannon had always hoped to help with was giving vaccinations. Pharmacy techs weren't allowed to do this, until Covid. Due to the emergency created during the pandemic, Shannon was able to take a course, and now she can administer many vaccine shots.
Speaking of Covid, it was a stressful time, Shannon said. "The worst was when we were closed for a while and doing curbside delivery." She's glad things have returned to a more normal setting.
A GREAT GROUP OF PEOPLE
Shannon enjoys her work and especially the team she works with. "The group at NuCara now is probably one of the best groups that's been here. We all work together really well."
NuCara in Nevada has about five full-time employees and several part-time employees on its team, and they get many things accomplished.
When asked what might be the biggest misconception when it comes to her work, Shannon said it would probably be about time. "A lot of people don't realize how long it takes and how much goes into filling a prescription." When a prescription is written, NuCara's team has to sort out what the doctor's directions are, make sure the patient won't have any interactions with other medications they are taking, count out the drugs, and then go through the process of double-checking and verifying the prescription. "It isn't as simple as just counting out pills and putting a label on the bottle," Shannon said.
She does, however, enjoy the various challenges that come with her job. "I like when different things pop up that I have to try to figure out, and I enjoy doing paperwork and organizing. I'm kind of OCD about all of that."
She also enjoys that NuCara is located on Nevada's main street. She enjoys being able to stop at the various downtown locations, especially FarmGrounds and Bricktown Bakery.
OTHER INTERESTING NOTES ABOUT SHANNON HAHN:
• She has two children: Abby, 19, who is attending ISU and also works at Dollar Fresh, and Zakk, 12, who will be a 7th grader this fall at Nevada Middle School.
• Her favorite pastimes are being with her family and their three dogs – 2 Siberian Huskies and 1 Pomsky. "The little dog keeps the big dogs on their toes. It wears me out just watching them play."
• One of her favorite things to do with family is take short road trips. Most recently they did a short road trip to Rinehart Family Farm at Boone, a fun place to go.
• Her favorite meal is pizza. "I'm a huge fan of pizza and like to try different pizza places. My son shares that love of pizza and would eat pizza every single day if he could. One of her favorite trips ever was to Niagara Falls in New York, where "they had the best pizza ever!"
• Her favorite holiday is Christmas. "I love getting together with family."
–Written by Marlys Barker, City of Nevada