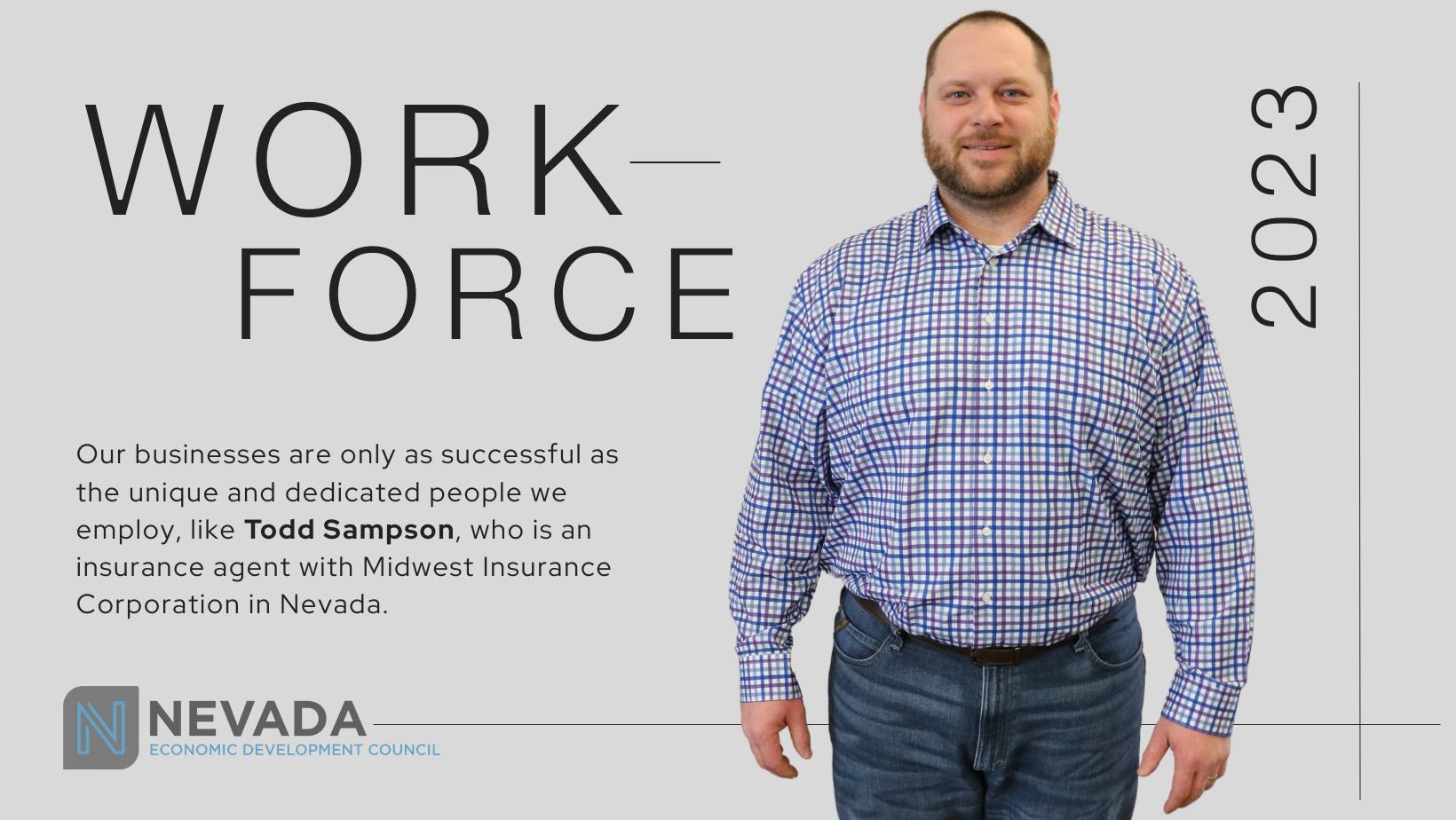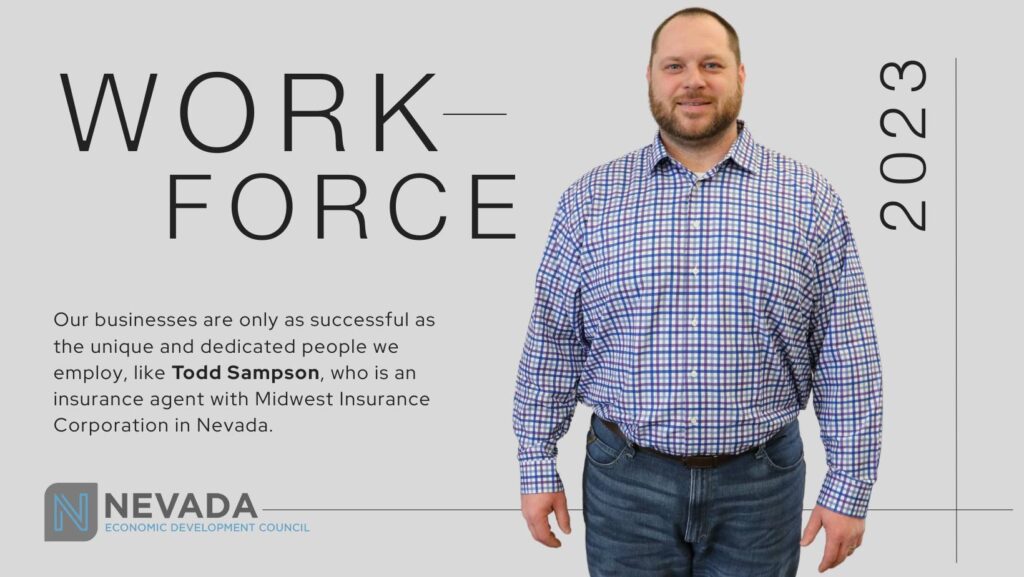 Todd Sampson, a 2006 graduate of Nevada High School, is now working in Nevada and raising his own children in the rural area not far from where he grew up.
Todd, who was active in football, track, soccer, basketball, FFA, band, and National Honor Society as a Nevada High School student, is giving back to the community and school district, as well. He's been involved in coaching at Nevada High School for 12 years, starting by helping with football for four years, and then switching over to be the head boys' soccer coach, a position he's held for the past 10 years.
"I had a great experience being involved in sports while I was in high school and wanted to give back to the school that helped me so much," Todd said.
His day job finds him at Midwest Insurance Corporation, where he's interestingly the only "guy" in the office. He says the team of ladies is a great group to work with. "I really enjoy working with the group of employees at MIC. We have a great team atmosphere, and work well together. Our agency does a great job of taking care of our customers and providing them with the best products for their individuals needs."
Todd came to MIC in 2013. He graduated from Wartburg College in 2010, earning a degree in business administration. His first job was a sales job for a printing company in the Belmond, Iowa area. After a year-and-a-half with them, he returned to Story County and worked at the feed mill in State Center, a place he'd worked in the summer during his college years. "That was a convenient place to land for a few years," he said.
He started with MIC in a "background service role," he described, and then worked into sales opportunities. "I sell insurance. Most people may think that sounds boring, but I focus a lot of time on farm/crop insurance and business insurance related to agriculture. I enjoy that, because … growing up on a farm and being involved with livestock and our family's row crop operation, that is my passion in the insurance industry."
Todd said there is more to insurance than what people sometimes see. "My objective is to provide the best coverage that each individual client needs. There is no such thing as 'cookie cutter insurance.' Every policy needs to be built for the needs of each individual or business."
At MIC, an independent insurance agency, Todd is able to work with a number of carriers to find the best coverage for his clients.
While he doesn't usually go out an assess damage, he recalls that when the derecho happened in 2019, he did go out to witness several clients' damages. "I took information and got pictures to help the claims process move along."
Along with insurance work and coaching, Todd also still farms, both with his family and on his own place. "My family lives on an acreage north of Nevada, and we raise pigs and cattle. We have 20 head of cattle and 100 head of sows. All of our livestock are sold for youth projects or breeding stock to people all over the country," he said.
"My wife and I also bought our first farm three years ago… Outside of work, you will likely find me in the barn."
Todd's wife, Laura, is originally from the Quad Cities area. The two met at The Arena when Todd returned to Story County and Laura was a student, first at Iowa State and then in the DMACC nursing program. She now works at Mary Greeley. The couple is raising three boys: Kody, 3; Tyler, 2; and Beau, 2 months.
Todd said he enjoys Nevada and the size of community that it is. He is a recent graduate of the Leadership Nevada program, operated through Main Street Nevada. "It was a great experience. I really enjoyed learning more about the community at large and about all of the things that are going on."
He's happy to be raising his sons in Nevada. "There are so many amazing community members and different things to be involved in, which isn't a luxury too many communities of similar size have. I think our school system is awesome and look forward to being involved as my kids start school."
As for MIC, Todd likes that he works for a company that is also invested in the local community. MIC has sponsored holes for Main Street Nevada golf outings, hosted food trucks during the summer and fall, and "we're always looking for more ways to volunteer and be involved in the community," he said.
A few more interesting things about Todd Sampson:
His parents are Doug and Diana Sampson, and he is the oldest of three children. His younger sister is Amy and his younger brother is Cory.
He played football for four years at Wartburg College on a team that took a conference championship and went to quarterfinal playoffs his sophomore and junior years.
If he has time to watch TV, he's usually watching sports or something on the Discovery or History channels.
He's an Iowa State Cyclone fan of every sport. And he likes the Dallas Cowboys.
His hobbies include spending time attending different livestock shows/events during the year. He also likes spending time with family. "Last summer we took our first family vacation to Yogi Bear Park in Wisconsin with my wife's family. It was a great experience and will likely be an annual event while our kids are young."
When it comes to what he's good at cooking, his answer: "Anything on the grill."
Fun fact from his high school days: "My family lived in our show barn while my parents' new house was being built during my senior year."
–Written by Marlys Barker, City of Nevada