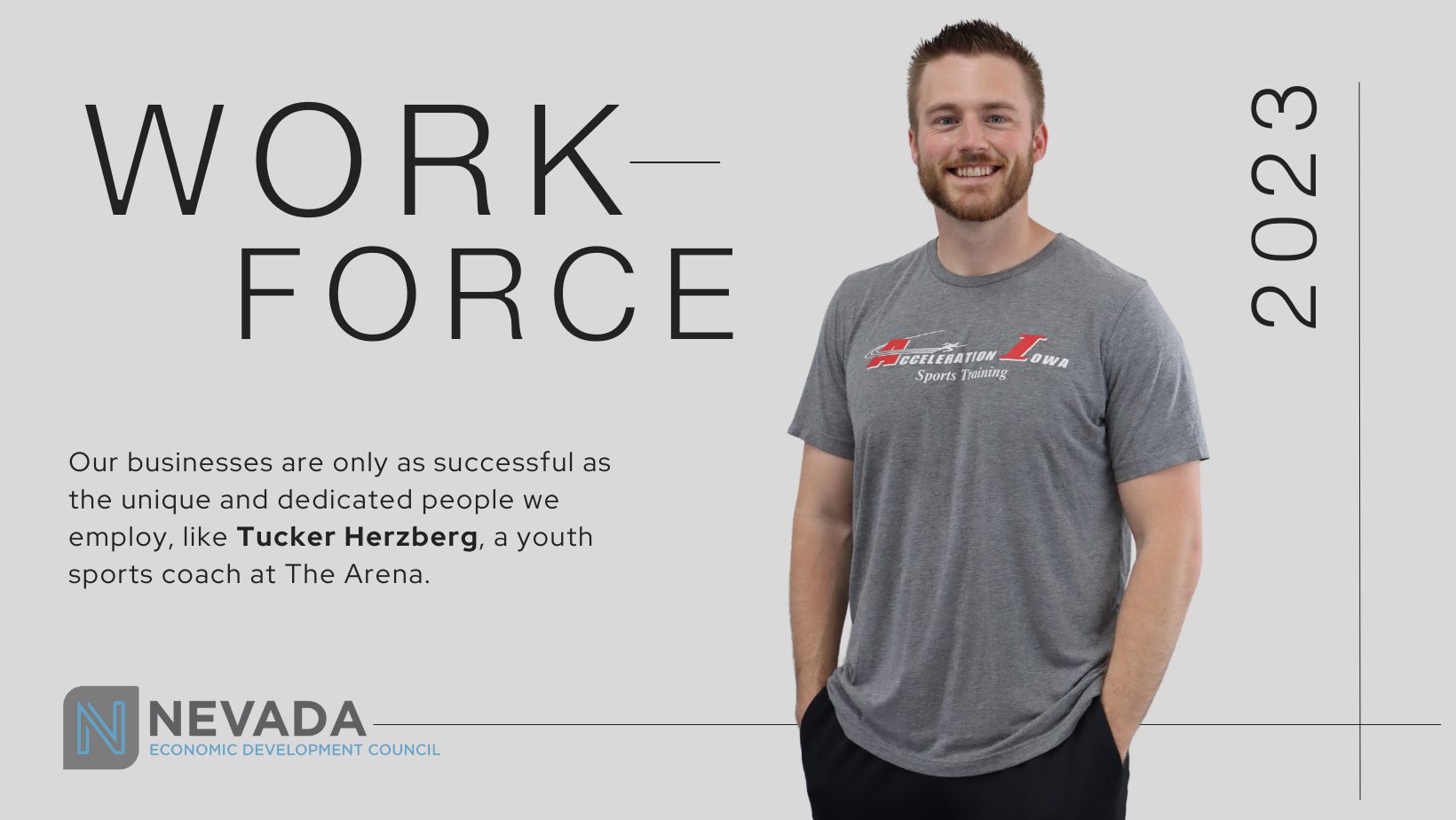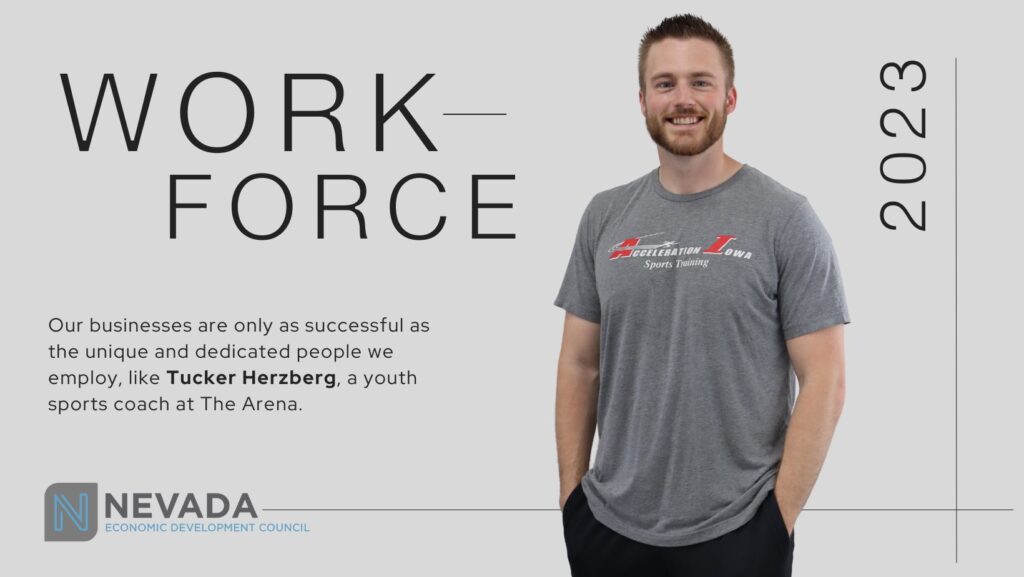 Seeing kids achieve the fitness goals they are working on is the most rewarding part of Tucker Herzberg's work at The Arena in Nevada.
Tucker, 29, is the director of sports performance for Acceleration Iowa, which is based in Ankeny. Since October of 2021, when The Arena and Acceleration Iowa began a partnership, Tucker has been the head coach of sports performance classes offered to youth at The Arena.
During the past year-and-a-half, Tucker has had the opportunity to work with "a lot of very motivated young athletes" from Nevada and surrounding communities.
"The bulk of our population (signed up for classes) is fifth through eighth graders, and they all want to get better at their sport," Tucker said. He noted that he also works with high school athletes at times when they aren't as busy, like summer months. "Our high school population (with The Arena classes) is growing," he said.
When kids come to one of Tucker's classes, they are working on all kinds of things related to athleticism. "We aren't sports specific," Tucker explained. "We aren't teaching pitching or specific sports positions. We are working on how to get faster, jump higher, get stronger."
Tucker said The Arena is a great facility for the classes he holds. "It's a very open space. They have any equipment an athlete would need. Outside, we have a 40-yard track, and with our laser timing system, we can have kids run on the track and get very accurate data on their speed."
One of the things student athletes enjoy the most is earning speed bands, which can be earned starting at 15 miles per hour (a good fast time for a youth athlete). Tucker said top high school athletes can often get up to 20-22 mph.
"There's a lot of healthy competition when they see a friend earn a band, and then they can work to earn a band," he said.
Weight lifting with kids is also a passion for Tucker. "They love learning proper technique and form, so they can do things they see older siblings or older athletes doing."
At the middle school age, technique is the most important element. "If they can get technique down in middle school, then they're really set up for success in high school," he said.
In addition to seeing kids achieve their goals, Tucker also enjoys seeing the comfort-level transition of a young and new athlete. "When they first walk into the gym environment with a lot of things going on and loud music often playing, it's kind of intimidating. Then, over time, you see how comfortable they get in this environment, and you see then being not scared to push themselves from a personal standpoint."
It's all about creating a positive relationship with exercise. Tucker said it's about flipping the script from hating exercise because you do something until you're sick and about to throw up, to working and pushing yourself at exercise because it makes you feel better and stronger.
Meeting great people is another fun aspect of sports training at The Arena. Tucker often has interns from Iowa State University or other assistants from Accelerate Iowa join him for his classes. Since many students in Nevada are big Iowa State fans, one intern, ISU basketball player Morgan Kane, has been popular. "When she comes in, they really light up," Tucker said.
Tucker is always willing to meet new youth athletes at The Arena in Nevada. Email: thearenanevada@gmail.com if you are interested in learning more. "I've really enjoyed getting to know the kids and families in the Nevada area. I love the kids I work with."
A few more interesting details about Tucker Herzberg:
• Tucker was born in Ames, and lived and went to school in Iowa Falls, Sibley and Manson-Northwest Webster, graduating from Manson-NW Webster. The family moved a bit due to his father's education career.
• Tucker was one of six children in his family. All six, his older brother and four younger sisters, played sports. Tucker was most dedicated to football, baseball and basketball. He was football quarterback and one of the pitchers in baseball.
• Tucker attended Iowa Central Community College for one year to study business and play football. He then decided he was more interested in exercise science and transferred to Southwest Minnesota State in Marshall, where he earned his exercise science degree. Wanting to be a strength conditioning coach at the college level, he interned with a college basketball team in Maryland for two years. He then took a job with an orthopedic and sports center in Washington, D.C.
• Tucker moved back to Iowa because he wanted to marry his girlfriend, Brooke Hollenberg, and discontinue the long-distance relationship they had. The two married and settled in Ames. They now are parents of a 6-month-old daughter, Isla. Brooke is a graduate of Ames High School.
• The Herzberg's favorite pastime is hiking and walking. "We have a couple of really large dogs. We've traveled to Seattle and Portland to go hiking. Any time we can find a new trail, that's fun."
• A TV show he and his wife enjoy watching together: "The Office"
• His favorite health food snack? Fresh fruit
• His favorite not-healthy food splurge? A Five Guys bacon cheeseburger
–Written by Marlys Barker, City of Nevada