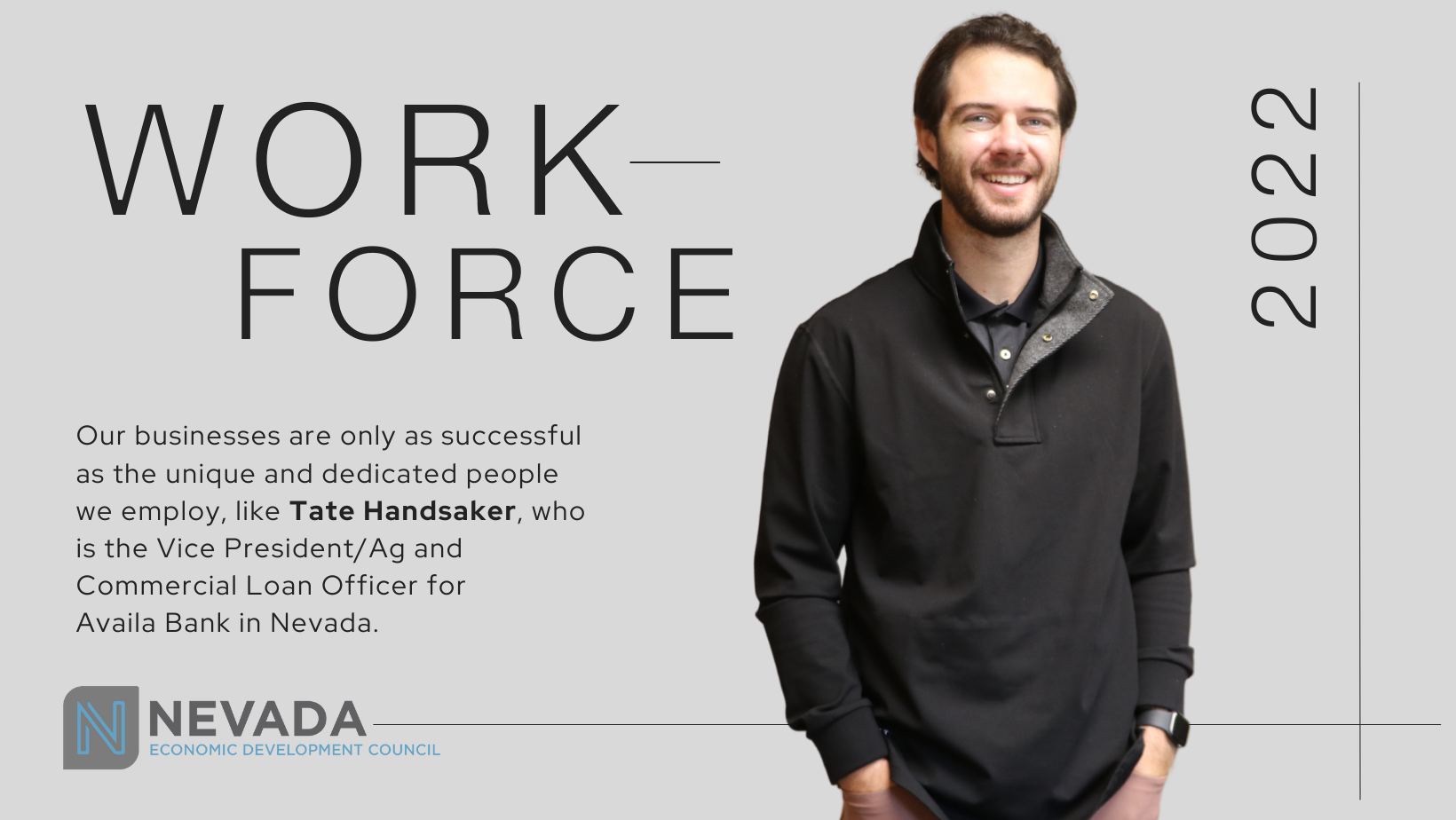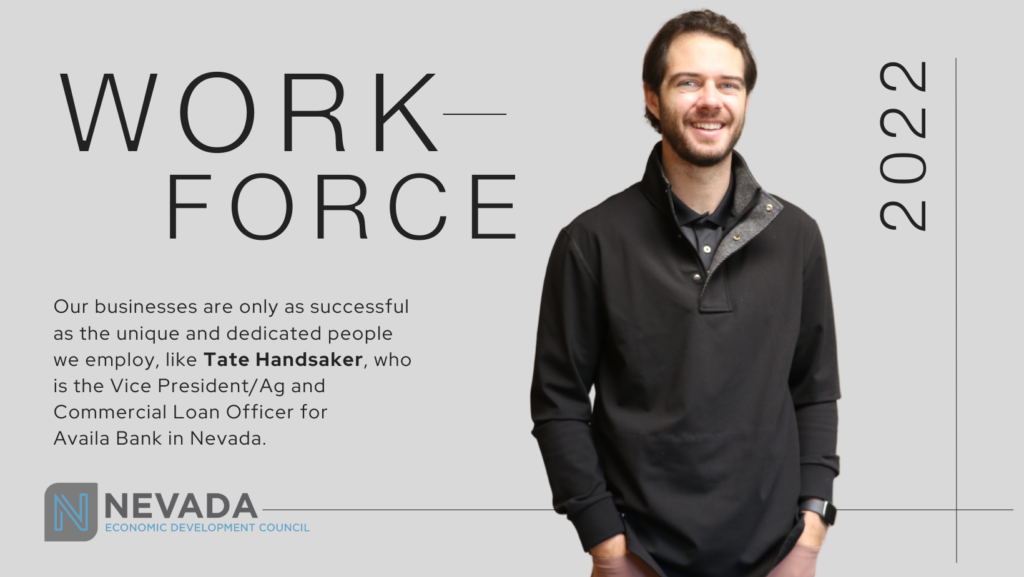 Tate Handsaker never thought he would end up in the banking industry, but that is exactly where the 28-year-old has landed.
Currently Vice President/Ag and Commercial Loan Officer for Availa Bank in Nevada, Tate is finding that banking is a great place for him to help others.
"This job is all about helping people… We are here to be a partner to help people achieve their financial goals, whether that's in a business or an ag business," he said.
Nevada is Tate's hometown, and he's lived here for all but about five years of his life – the four years he went to college at Central in Pella, and the one year he worked for Leighton State Bank in Pella, right after graduating from college in 2017.
The 2013 graduate of Nevada High School said he entered Central College with the plan to study physical therapy, but after a couple of years, he changed his degree to business administration, management, and finance.
In getting a business degree, his first thought was to eventually work in the ag industry. All of his grandparents were into farming and agriculture, and that environment is something Tate has always enjoyed. The ag loans side of his current job gives him that connection.
When Tate first returned to Nevada from Pella, he'd taken a job with Munn Lumber in Ames in their receiving department. His college roommate's family owns Munn Lumber and the job was a chance to come home.
Not long after, a banking position was available at State Bank & Trust in Nevada, and Tate was hired as a lender. He worked for State Bank about three years.
"State Bank was great. The people at State Bank are awesome people," Tate said. He explained that his move to Availa Bank about five months ago was about having the best "career path" for himself.
LOOKING BACK AND AHEAD
While attending school in Nevada, Tate was all about sports. He played basketball and soccer, and also did two years of football and two years of cross country. "I loved sports," he said.
Tate also loved FFA and showing cattle. "I still do that (show cattle) with my dad. It's an expensive hobby," he said. But he enjoys it and said he also enjoys helping other families and younger kids out with their showing skills.
Growing up in Nevada, Tate said he's happy to be employed in the community, and he's impressed with the growth of the community.
"I love the support the City has for all of this community. It feels like everybody is really 'on board' with things like the new Field House… the new housing developments… the new wastewater treatment plant… all the downtown projects."
He can't stop talking about all that's going on here. "I just love that everyone comes together with support for all of these projects." He mentions the Burke expansion, the updates of the school district, seeing a local chiropractor get to move to the Lincoln Highway location, the success of the Nevada Community Rodeo organizers… "We've just got so much popping up here."
Tate loves the relationships that are present in Nevada, especially between the bankers. "There's a lot of competition in banking here, but I feel we all get along with each other."
Availa Bank bought the previous Community Bank, and Randy Clary is Tate's boss and is new to the Nevada Community. "Randy's doing a great job. It's tough to come into a new community, but he's really gotten involved in a lot of things. I also like that Zach Hansen (a 2015 graduate of Nevada High School) is our mortgage lender. He's a great guy, and we're good friends, so that's nice. He also went to Central!"
Tate is excited for the future and for his position at Availa. "A lot of people, when they get with a banker, they stay with them for a long time. We're building a trust with our clients, and we develop a relationship." When approving a loan, Tate explained, the bank is really saying, "We believe in you and believe you will succeed. We want you to succeed." And, he added, he follows what his clients are doing and continues to be available to them as they grow their business.
"They can turn to me for information and for financial wellbeing, and now that I'm in banking (and realizing the connection he has to others), I don't think I can ever walk away from that."
A FEW MORE NOTE OF INTEREST ABOUT TATE:
His parents are Robbie and Darla Handsaker of Nevada. He has an older brother Tyson, a 2007 graduate of NHS, who now lives in Ankeny, and an older sister, Taylor, a 2009 graduate of NHS. Taylor is married to Mitch Fondell and lives in Grimes.
He loves going fishing and takes a few fishing trips each year. He likes fishing in Canada, but would love to explore all the states, especially the western United States.
He loves hanging out with friends in Nevada.
He stops most often in town at Fareway and MiCasita. He also enjoys attending Nevada High School sports events.
If he's watching something, it's usually Netflix or Survivor. He likes watching "Friday Night Lights" at this time of the year.
He is a big Cyclone fan and loves to tailgate.
–Written by Marlys Barker, City of Nevada