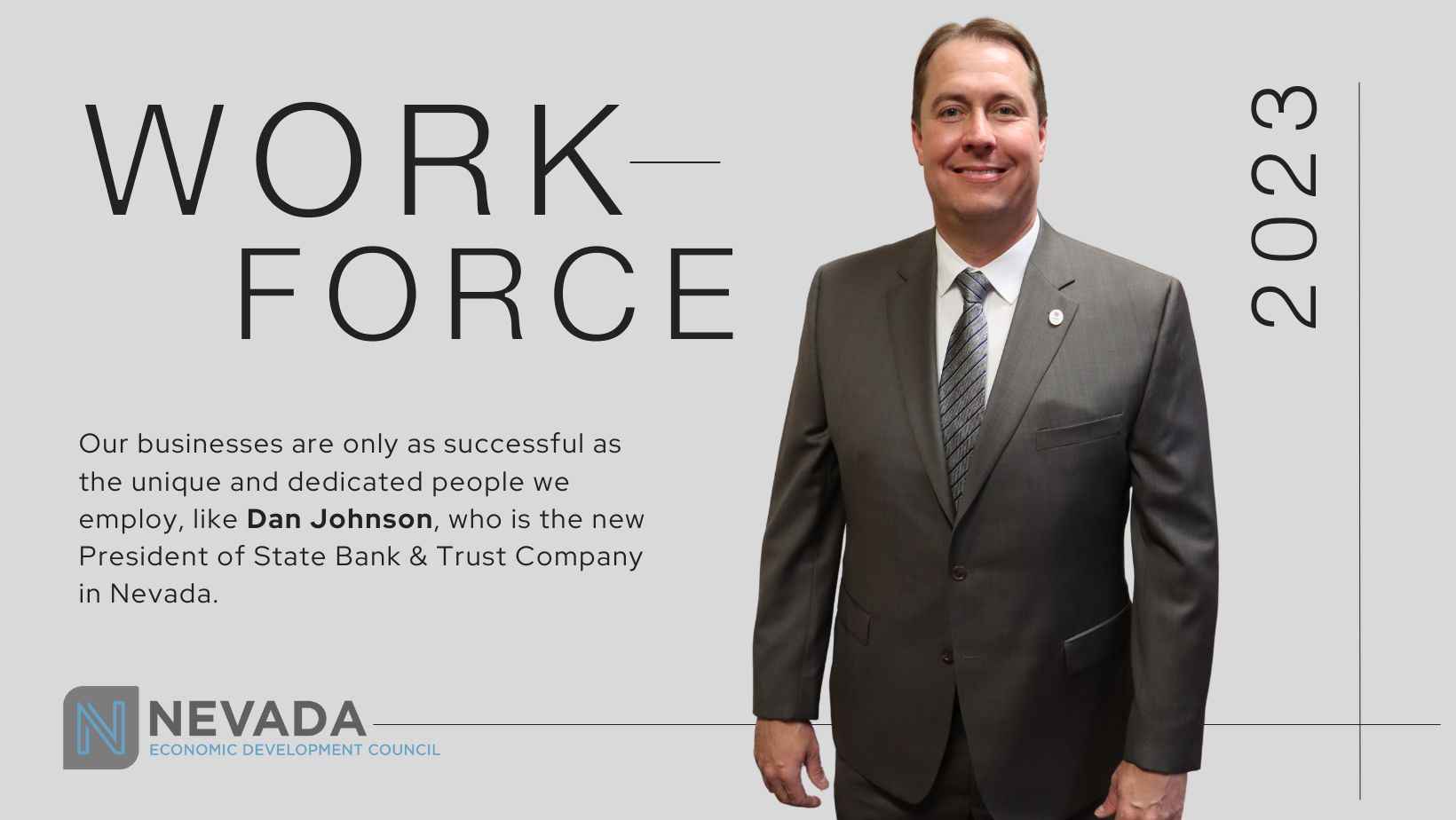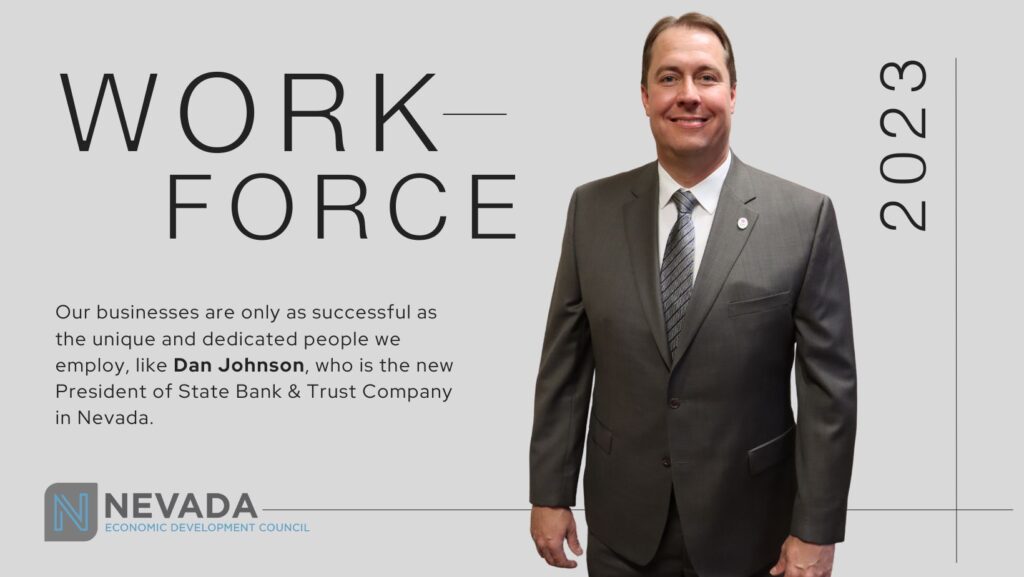 An interest in small town community involvement and building life-long relationships are probably the two biggest factors that led State Bank & Trust Co.-Nevada, Iowa Co.'s newest president into a banking career.
Dan Johnson, who was recently named the new President of State Bank & Trust Co. in Nevada, came to Nevada for a career with the local bank in 2008. He previously served as the bank's Executive Vice President/Senior Lender.
Besides moving into a new office – the president's office – Dan said the biggest change he will undergo in moving into the president's role is what he's focused on. "In my previous role, I was mainly focused on all loan-related activities. As president, I'll move from overseeing loans to leading the SBT Team," he said. And he's excited about this. "We have a great team here at State Bank & Trust Co., and it will be my honor and privilege to lead them."
Dan was raised in the Rockwell City area and graduated from Rockwell City-Lytton High School in 1990. He then attended Iowa State University, graduating in 1994 with an ag business degree.
In addition to his work in banking, Dan is also a fourth-generation farmer, and he admits, he thought strongly about a career strictly in ag business. "While at ISU, I had three summer jobs, two in ag in the seed industry and livestock equipment sales." He interviewed with several seed companies and ag sales companies when he graduated from ISU.
But, banking positions were also part of his employment search toward the end of his college career. "There were positions available, and I liked the idea I could work with farmers and small communities." In banking, you might say, he's found the best of both worlds. He's also found time to continue being involved in his family farm business in Boone County.
"I love continuing my family's heritage, doing my part to continue what my great-grandfather started when he immigrated from Norway to Iowa in the early 1900s. I grew up hearing all the stories of what they endured to survive back then and to eventually gain citizenship."
He notes that farming and banking, not only have some things in common, they are complementary occupations. "I enjoy the challenge, the ups and downs, and the satisfaction of producing something. The physical demands keep things in perspective as well, especially when I drive the desk during the day and week. Farming melds nicely with my work at State Bank by giving perspective, especially with ag-related clients." Knowing most things are easier said than done, "if you have done them yourself, you can better relate to others."
Dan's banking career started in northern Iowa when he went to work for United Bank and Trust Co. in Franklin County. He worked in Dows and Sheffield and then was moved to a new bank location in Hampton, running that branch from 1999 to 2008.
He met his wife, Carla, who works as an X-ray technician at McFarland Clinic in Ames, when he was in Franklin County. They have two children, Nate, a senior at Nevada High School, and Caitlin, a sophomore at Nevada High School.
The move to Nevada in 2008, Dan said, made sense because it brought him closer to the family farm operation in Boone County, as well as provided more opportunities for his wife's career. Dan also had known a number of people who had worked for Ames National Corporation, which is the holding company that owns State Bank & Trust Co.
He and his family have loved the Nevada community. "I like that it's a smaller town, like what I grew up in. You aren't just a number in Nevada. You can get involved and see your impact. I like that I have been able to get to know the community and help it grow."
Anyone who's met Dan knows he's a very friendly guy who honestly enjoys helping and working with others. He also wants State Bank & Trust Co. to continue being a bank that is involved in the community, and is an investor with the Nevada Economic Development Council. "As an NEDC investor, you are committing to the future growth and prosperity of Nevada and the surrounding area. NEDC is the catalyst for the community's private and public partners to work together. Investors can directly interact and work with local government, economic development professionals, and businesses to support and improve existing businesses and attract new ones."
A few more interesting things to know about Dan Johnson:
• As a high school student, he was very involved in sports and FFA.
• If he has time to watch TV, he is usually watching football or basketball. "And I've been known to take in an auto race occasionally."
• Growing up in the '80s and '90s, he listens to all kinds of music, including anything from AC/DC to Zac Brown. "I find myself listening to more 'Hair Nation,' Def Leppard, Motley Crue, Poison, Tesla – Heroes of the final Iowa jams," he said.
• A great book he read recently would be "The Power of Emotional Intelligence" by Daniel Goleman. "It was a great read about understanding your emotions and how they can impact others."
• As a sports fan, his favorite teams include: "Nevada – Go Cubs! And Cyclones football and basketball."
• What is something he's good at cooking? "Toast! Just kidding. I enjoy grilling almost anything and usually that includes a cold beer or two."
• His favorite pastimes and hobbies? "Kids' activities, traveling, farming, old tractors and motorcycling."
–Written by Marlys Barker, City of Nevada