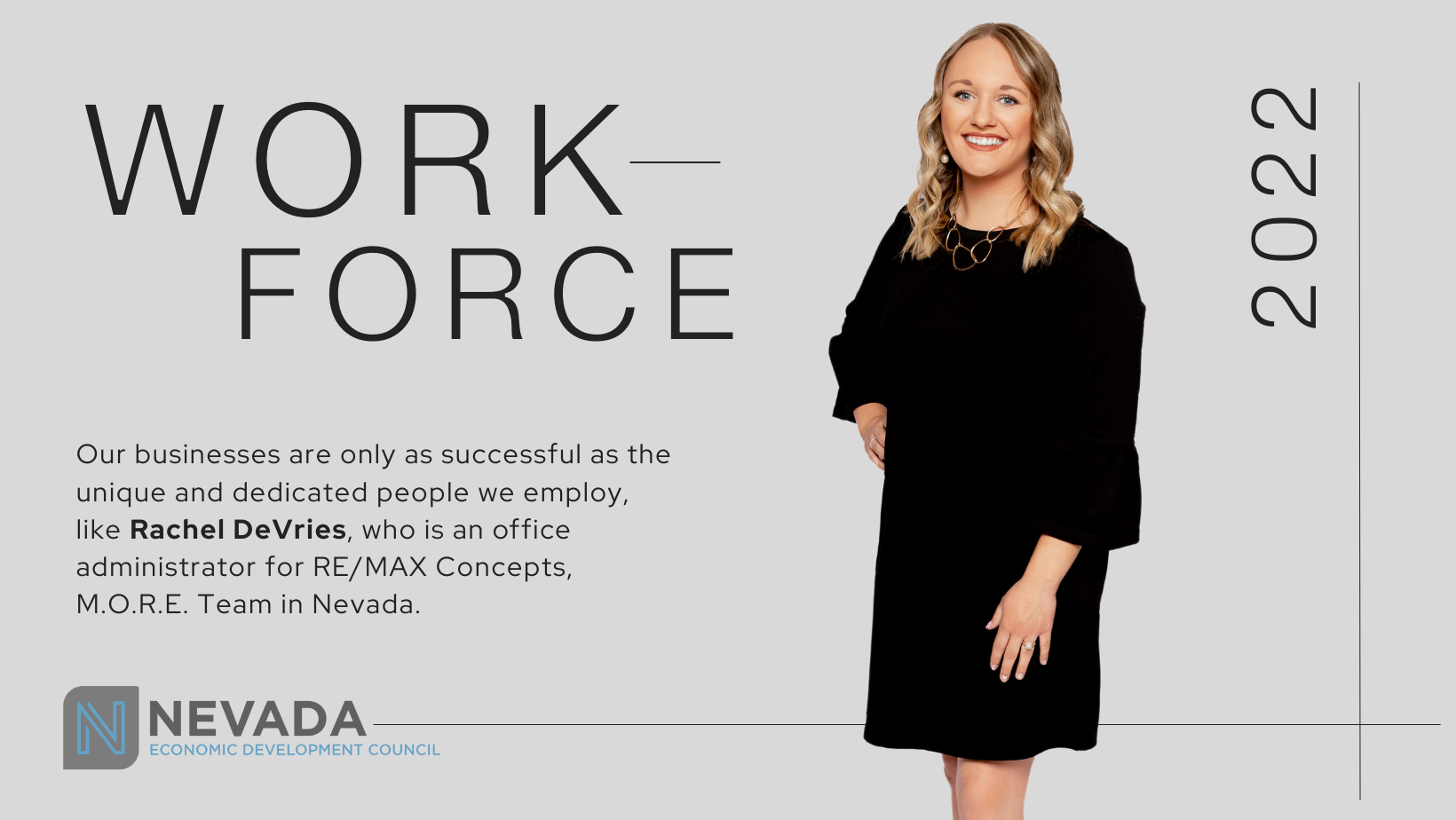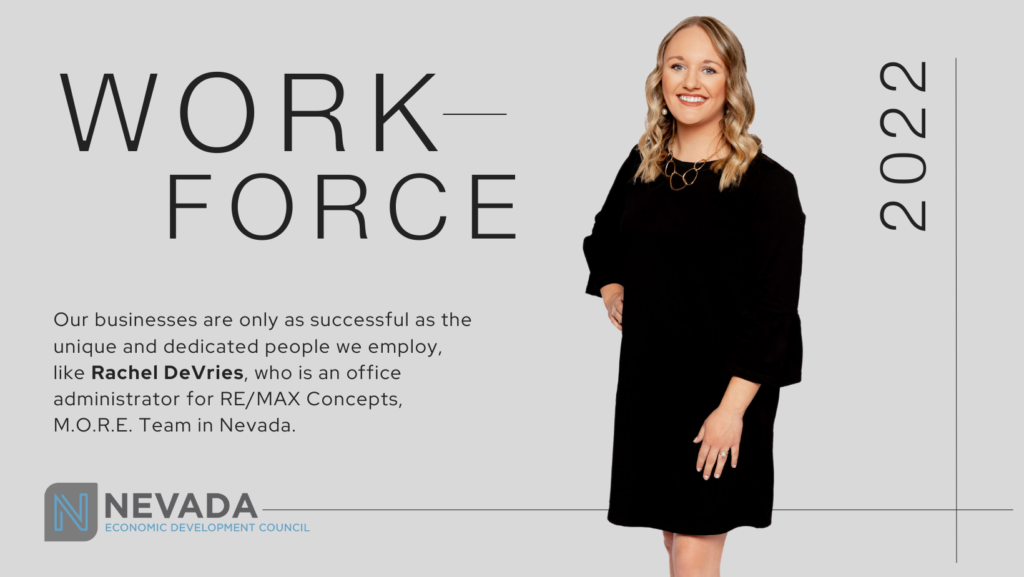 When it comes to working in the Main Street District of Nevada, IA, this young woman has both a strong family history of relatives working downtown and a current roster of relatives and connections working in the district.
Rachel (Smith) DeVries, 27, a 2013 graduate of Nevada High School, said her childhood is full of memories of Nevada's downtown and especially the Ben Franklin Store, where her mom Sheila starting working as a teenager and will soon wrap up a 44-plus-years career as the store closes.
In Rachel's current position as assistant to Real Estate Broker Marc Olson and an office administrator at RE/MAX Concepts, M.O.R.E. Team, she noted that she appreciates the family atmosphere of the business above all else.
"It's always nice to work in a place where it's like a family. I'm used to that with my mom's job at Ben Franklin all these years. Fred and Vi (Samuelson, longtime Ben Franklin owners) were like family to us. Ben Franklin was a small family business, and the Olson's business is like that too. We all get along together, and outside of work, we help each other with things."
At the RE/MAX office alone, one of Rachel's sisters, Jaclyn, works for Jarod Pedersen Insurance, located in the same building. Rachel's dad, Chuck Smith, a retiree of 3M, isn't in the office daily, but he's a regular helper to Marc with various projects and needs that Olson has. Chuck also is the on-call babysitter for his grandchildren, including Rachel's two sons.
Venture outside of the office, but still in the main street district, and you'll find Rachel's husband, Justin, a 2012 graduate of Nevada High School, working at the JCG Land Services downtown office, where he does land acquisitions and easements; and Rachel's sister, Ashlee, and her aunt, Shari Clatt, at the Hair Studio. Rachel's third sister, Brandi, works in town for Availa Bank.
"It's kind of fun," Rachel said of having so many family members around her.
To Rachel, Nevada's main street is home. "You know everybody, and everybody knows you," she said, and it's that small-town community feeling that she believes is important to impress upon RE/MAX clients who are moving to town. "If you're looking for a small town where everybody's there to help you, we have that here. And we have everything you need, grocery stores, convenience stores, restaurants… It's also nice that when you walk into places, like Snacktime, they know you."
When it comes to her choice of having a career in real estate, Rachel said houses are always something she's been interested in.
"I'd always thought about real estate. I like the whole houses concept from design to other things. And the excitement — it's exciting when you help people close on a home," she said.
She learned the excitement of closing, when she took a job for a Des Moines-based real estate closing firm as a closer. She was attending Des Moines Area Community College (DMACC), where she took business courses after high school, when she landed this job. "I wanted to test out a job in real estate and see how it went," she said.
Obviously, she liked it, and with her husband also working in the Des Moines metro area after high school, the couple purchased their first home in Madrid, and commuted. "We lived there four years, and shortly after we had our oldest, we moved back to Nevada," Rachel said. They both were thankful to have great opportunities for careers in their hometown, and be able to raise their boys, Maverick, 4, and Slade, 2, in Nevada.
In her position with the M.O.R.E. Team, Rachel is busy with a variety of things as Marc Olson's assistant. She also earned her real estate license last year to continue growing the things she's able to do. Working on listings is a big part of her job, as well as helping with other endeavors the Olsons and all of their employees get involved in.
"We all help with the rodeo. I do marketing on Facebook and ads for the sponsors. The day of the rodeo it's just madness; you do whatever you need to do," she said with a smile. The Olsons also got very involved in Pizza Pie Looza, and Rachel was around that day as well. "I was helping during the day. It's nice to see all these things coming together in our town."
As far as her own career goals, Rachel admits she's her mother's daughter. "We are almost the same person. My mom has shown me the way I want to live my life." In addition, being at a small, family-focused business for many, many years like her mom, that's Rachel's goal, too. "Once you find a business you like, you stay, because you feel like it's where you are meant to be. I see myself working her (for the M.O.R.E. Team) for a long time."
–Written by Marlys Barker, City of Nevada